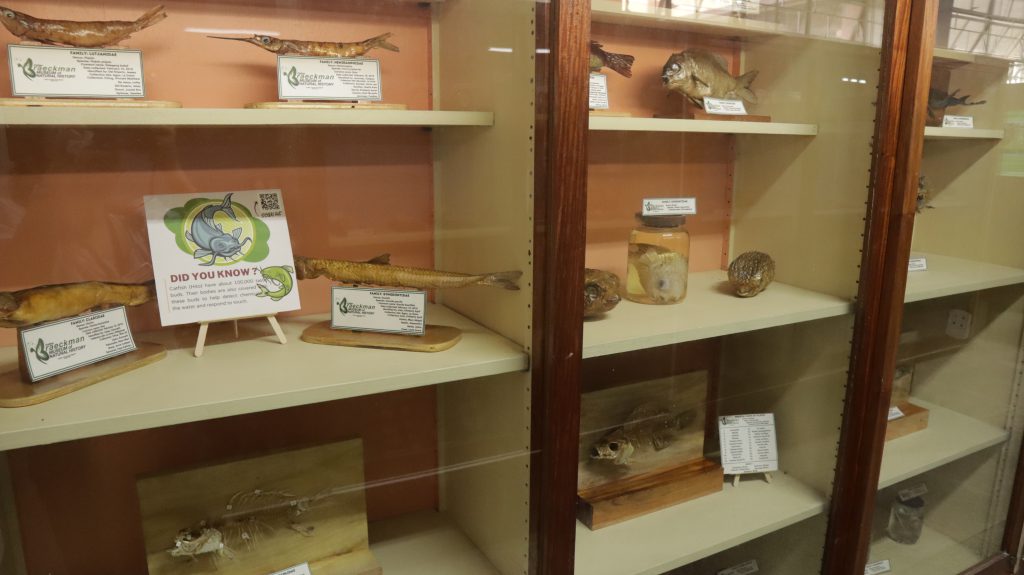 The school was officially inaugurated in 1967 when the College of Arts and Sciences – formerly the College of Liberal Arts founded in 1952 – was split into the Colleges of Natural Sciences and Human Sciences. Rev. Fr. Gerard Braeckman, CICM was at the helm as Dean of this School for more than 30 years, until his retirement in 1998.
A plant hobbyist with extensive training in Zoology, Fr. Braeckman established and headed the Plant Propagation Laboratory (which also housed a miniature zoo at one time), and the Braeckman Museum of Natural History to drum up interest and appreciation for the biological sciences among students.
The range of collections includes the following: fossils, insects, extinct animals, rocks, woods, and dried plant specimens that come from different parts of the world.
Most of the collections in the museums were donated by students of the university, benefactors, parents, and other individuals who believe in the objectives and commitment of the museum and the university.
The museum usually provides visitors with basic orientation, lectures, and/or demonstrations about the collection.
The Museum has three (3) sections which are;
Zoological where it focuses on the study of both living and extinct animals
Herbarium where is a primary data source of dried and labeled plant specimens that are arranged to allow for easy retrieval access and archival storage.
Paleoanthropological where studies human evolution through fossil and archaeological records. It also studies rocks and precious stones.
These instructional and research laboratories are equipped to provide the School's budding scientists with the best there is in scientific and technological facilities. The School is recognized too for its award-winning research outputs and its sterling performance in board examinations for medical Technologists, Pharmacists, and Radiologic Technologists.
The museum is located at Rizal Building and is open from 10:30-11:30 am every Monday, Tuesday, and Wednesday and 1:00-2:00 pm every Thursday, Friday, and Saturday. Admission is free.