The Center for Counselling and Wellness is an integral arm of the University. Complementing instruction, it is dedicated towards helping learners acquire relevant and necessary knowledge and skills such as self-awareness, problem solving, and decision making through participation in different guidance activities. These activities are typically grouped into academic, personal/social, and career.  
THIS IS OUR COMMITMENT: TO FACILITATE GROWTH BECAUSE WE BELIEVE…
The Center for Counselling and Wellness helps you prepare for current and future challenges by supporting your academic, career, and personal/social development through the following:
COUNSELING SERVICE
As your Guidance Counselors and School Psychologists, we are always glad to help you gain a better understanding of yourself and your situation, make informed choices, and develop a guided plan of action. Moreover, through career guidance or counseling, you may also know whether you are on the right career path or you need to change programs. So come and avail whether face-to-face or online.
INTAKE INTERVIEW
If you are a first year student and you need assistance in your adjustment to college life and determining how you are adapting to your new environment and what support may be best given to you. So, if in the course of your first year of stay in the University, a Guidance Counselor calls for you for an interview, do not fret, we just want to find out how you are.
REFERRAL SERVICE
You can refer a friend or a fellow student to the Center for Counselling and Wellness. We accommodate referrals of students who have concerning behaviors (e.g. social / interpersonal difficulties, dwindling interest, aggressive/hostile behaviors, etc.) from students, faculty and other members of the community.
MENTAL HEALTH PROGRAM
The Mental Health Program aims to educate students like you on how you can help yourselves during troubling times and how you can strengthen your innate coping and resilient abilities. This is to further inspire and encourage you to value life. Visit and bookmark the SLU Center for Counselling and Wellness Mental Health Toolkit, via https://sluguidancecenter.weebly.com. It is a recently developed and constantly updated website of a compilation of social media posts, videos, and other resources that may help you improve your mental well-being.
The Center for Counselling and Wellness has a program specifically for Students with Special Needs aimed at facilitating the smooth transition of learners with varying needs to their new environment with its share of demands and responsibilities. If you are one of these, do not hesitate to come to the Center for Counselling and Wellness and tell us about it.
Through Psychological Support and Crisis Intervention, the Guidance Counselors and School Psychologists respond to the immediate psychosocial needs of students, families, and special groups brought about by unfortunate traumatic or critical events.
INFORMATION PROGRAM
The Information Program aims to provide relevant information to students and parents through various materials and activities such as the following:
Lousian Survival Journal is an informative material and interactive student diary that assists first year students in their journey as college students.
Anti-Drug Abuse Campaign includes materials that contain messages which alert you on the dangers and ill effects of drug abuse and misuse.
Gabay Series Program provides self-enrichment activities such as seminar-workshops, talks, and other activities to cater to your various psychosocial needs not met by academic classroom exposure.
Kaagabay Series Program

involves a collaboration between the Center for Counselling and Wellness and the parents/guardians of Louisian students. This aims to provide parents/guardians with the right and necessary tools in aiding their children to succeed in college.

Anti-Bullying Campaign is composed of different activities, whether online and/or face-to-face, lined up to raise awareness on the issue of bullying. Take a stand, safeguard and promote the welfare of all Lousians. If you are being bullied or have witnessed someone being bullied, don't hesitate to seek assistance from your Guidance Counselors and School Psychologists or alert any person in authority.
Lingap para sa mga Anak ng OFWs Program aims to provide Louisian OFW dependent students with face-to-face or online workshops, focused group discussions, and other activities that can assist them in navigating through the challenges of being sons and daughters of OFW parents. It also intends to intensify Christian values that will influence positive relationships with family members left behind, with their OFW parent/s, with themselves, and with God.
Growth and Instruction For The Exceptionally Distinct (GIFTED), a program that caters to students who are considered distinct and exceptional in various fields, aims to ensure that gifted students of the University are given the best possible opportunities for growth and development. The program assists the gifted student identify, face, and cope effectively with problems and issues that might hinder them from reaching their full potential.
INFORMATION SERVICE
You may consider inviting one or two of our Guidance Counselors and School Psychologists as your resource speaker/s. We give talks, whether online or face-to-face, on selected and relevant topics on human behavior such as but not limited to personality enhancement, leadership, coping with stress, team building, study habits, conflict management, and career guidance.
CONSULTATION SERVICE
You can be empowered to provide assistance to other people in need or to be more informed about your research tasks and/or other projects. The Guidance Counselors, School Psychologists, and Psychometricians are willing to share their expertise and knowledge which are presented for your consideration and decision-making.
TESTING AND APPRAISAL SERVICES
Different personality tests are available for different year levels during the First and Second semesters of every Academic Year. The test results are interpreted and explained to you in order to help you better understand yourself.
PLACEMENT SERVICE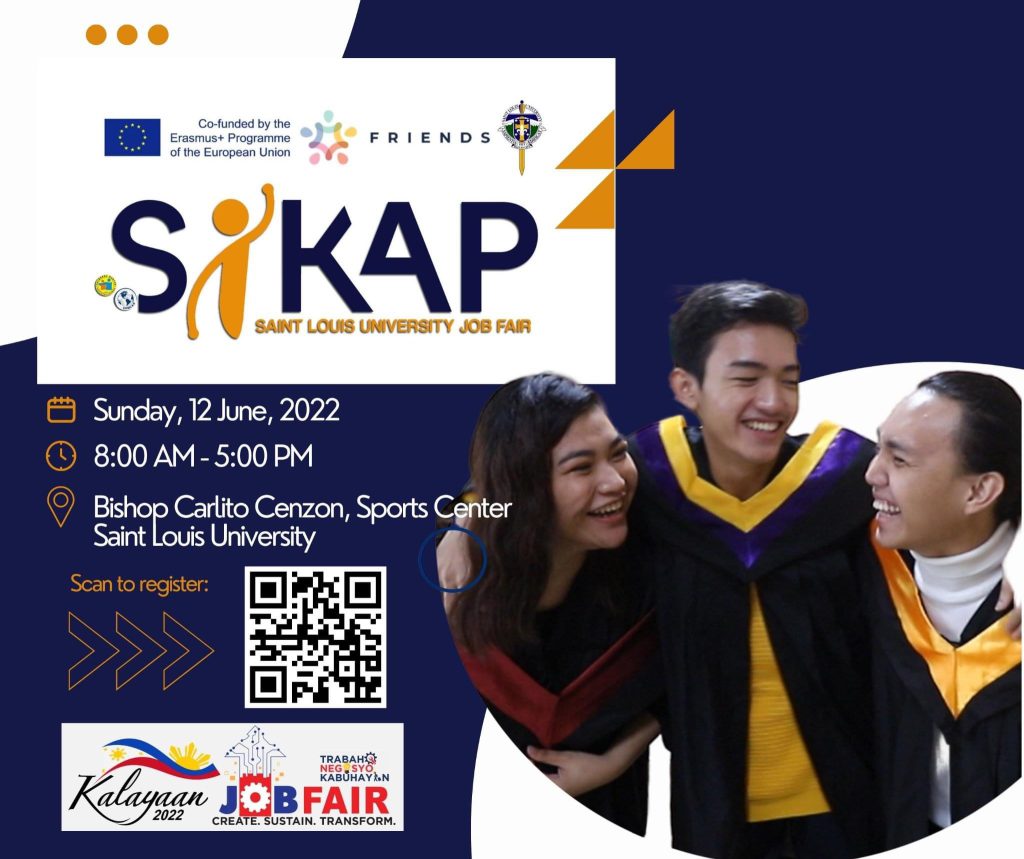 Watch out for the yearly SIKAP JOB FAIR organized by the Center for Counselling and Wellness and Office for Global Relations and Alumni Affairs Office (OGRAA) where companies from various fields of work attend and scout for future employees and business associates. The Center for Counselling and Wellness also wants to prepare Louisian graduates in the world of work so do not miss the semestral CAREER TALK given to graduating students as well, whether online or face-to-face.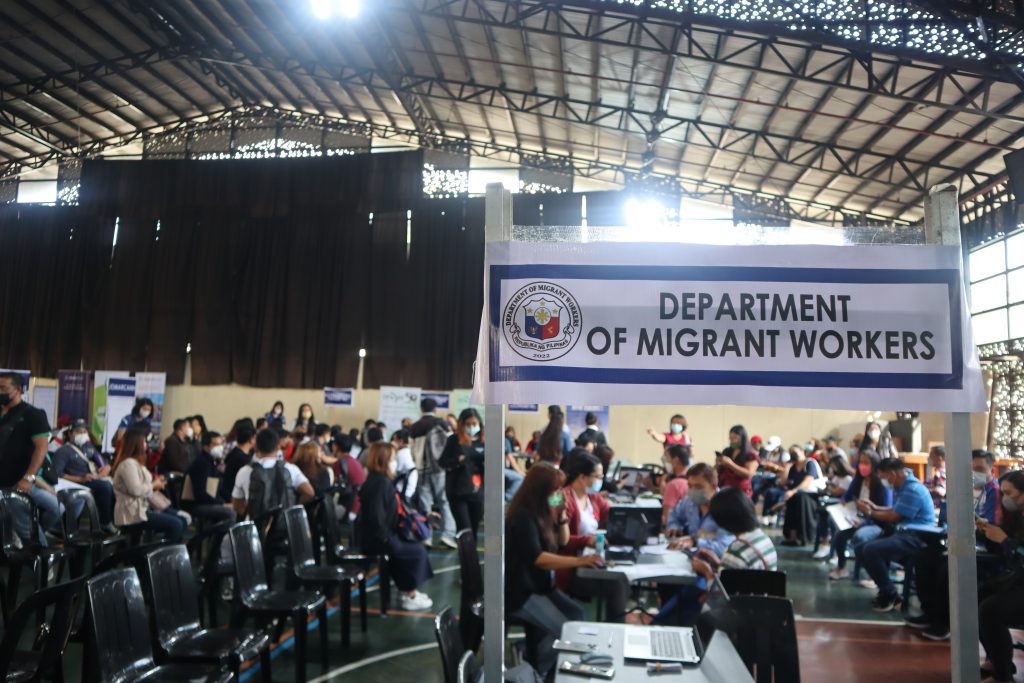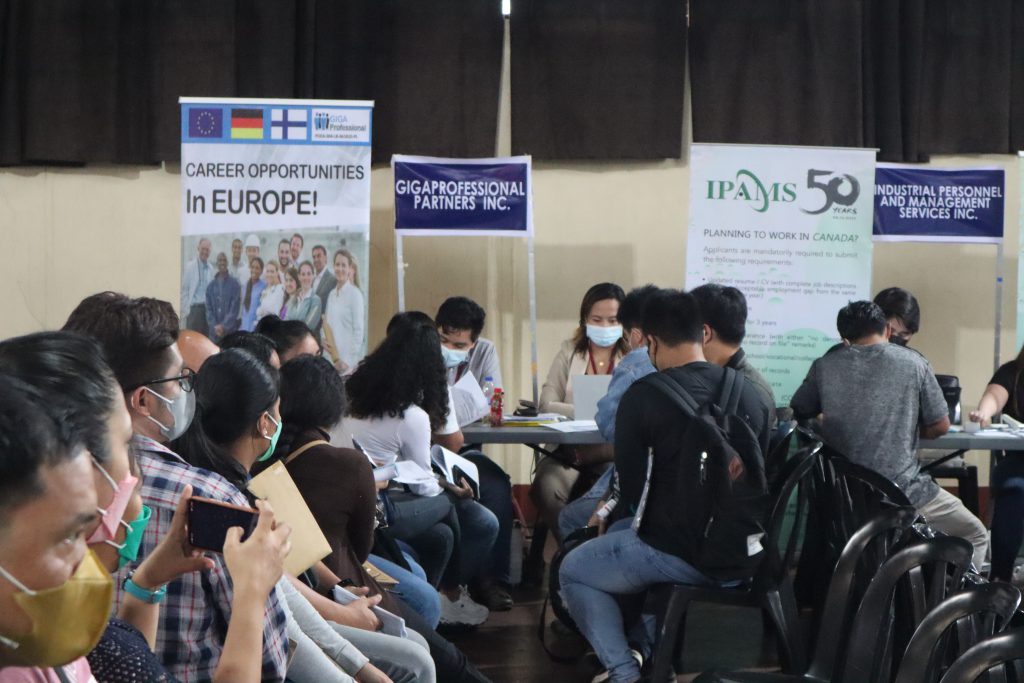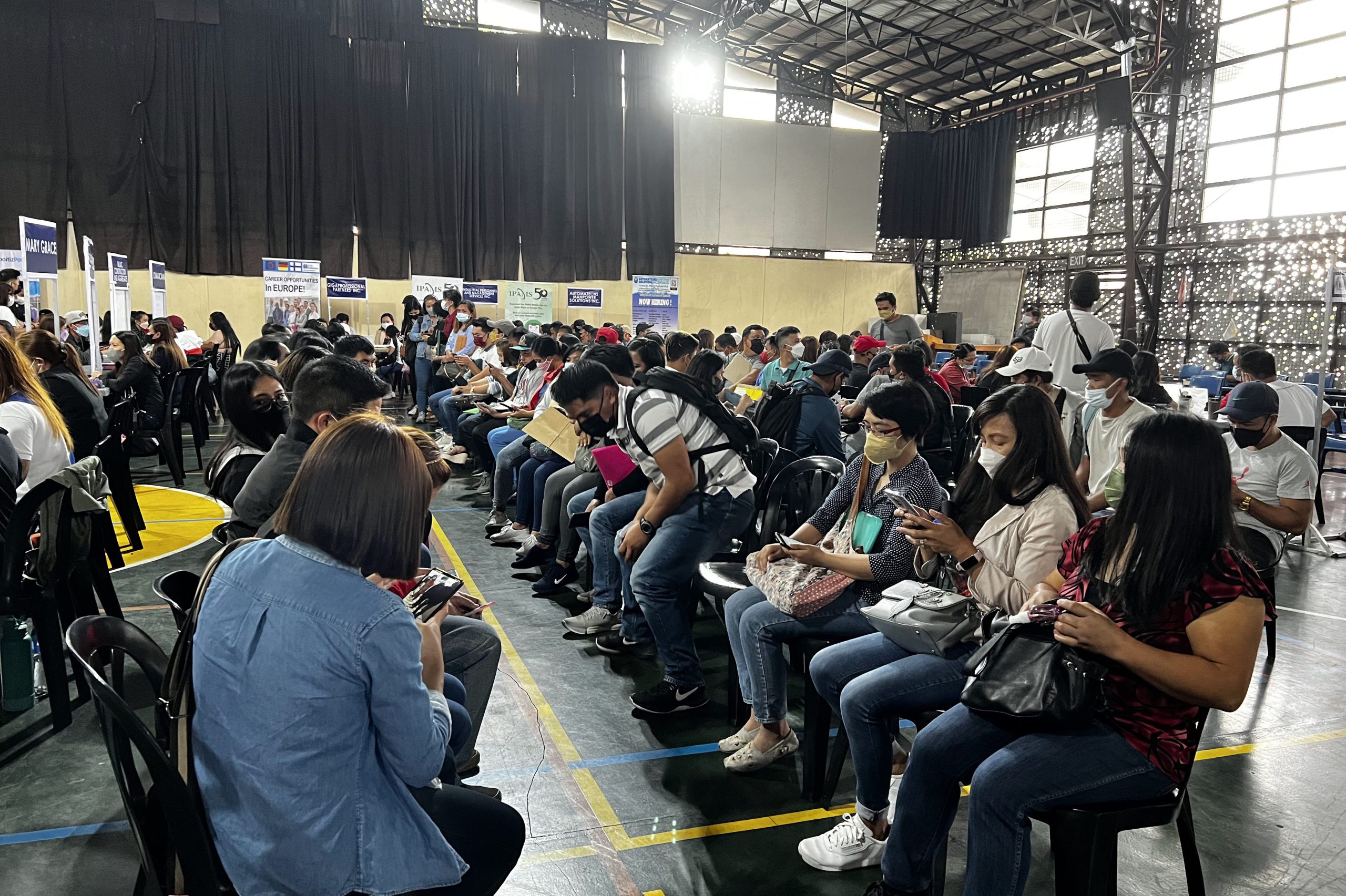 OTHER PROGRAMS
Peer Facilitation Program. Project Sequioa is an intentional mentoring program where Louisian volunteers are trained to provide help to their peers by listening and offering emotional support.
Life Enrichment Program. Let us talk about the factors affecting your academic performance in our academic intervention services. If you are a first or second year student with a substantial percentage of failed subjects, this program aims to help you cope with your academic failure through interactive activities thus helping you manage your academic workload or studies better. Another is the Individual Guidance (IG) where the Guidance Counselors monitor your academic performance, provide information and conduct needed counseling in order to help you obtain better grades.
Private Scholarship or Financial Assistance Program. Do not let the opportunity pass you by. Check the bulletin boards, CCW Webpage or the iSLU Student Portal so you would not miss the announcements on Scholarship Programs. If you also happen to know someone who does not have the means to pay for their lunch and is suffering from involuntary hunger, you may refer them as a PROJECT DAILY BREAD (PDB) beneficiary.
Center for Counselling and Wellness Scholarship Announcements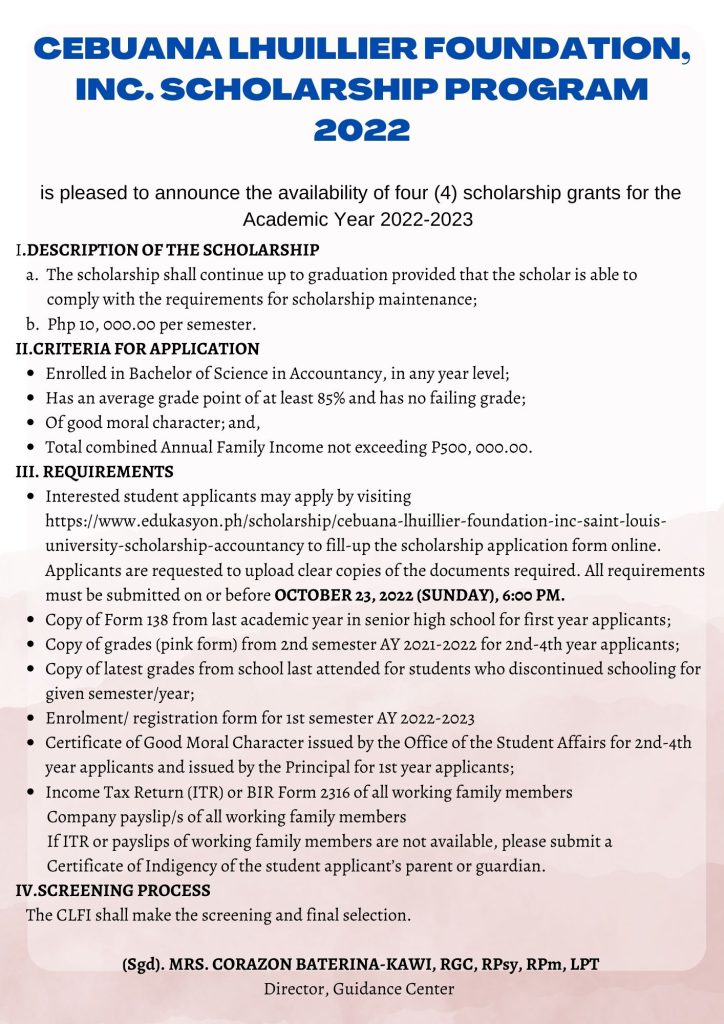 Contact Information
Locate Us
Call us
Email Us
3RD BASEMENT, FR. VERBIST CHRISTIAN FORMATION CENTER (MAIN CAMPUS)
D-816, FR. DEVESSE BUILDING (MARYHEIGHTS CAMPUS)
(063)(074) 444-8246 to 48 Local 222
(063)(074) 442-6321 Local 210
gcdir@slu.edu.ph / guidancecenter@slu.edu.ph
Social Media Accounts
Follow us, too, on our social media accounts:
Facebook: @sluguidancecenter
Instagram and Twitter: @slu_guidance
We'll be more than glad to be of help.
For more resources, materials, and/or information relevant to your college journey, scan the following QR codes to access:
SLU Guidance Center Facebook Page
Our official Facebook Page includes announcements and relevant postings that can aid students in their academic journey and holistic development. You may also send us a message if you have inquiries or concerns.
SLU Guidance Center Mental Health Toolkit
This website contains resources Louisian students, parents and/or guardians can use to support their mental health.