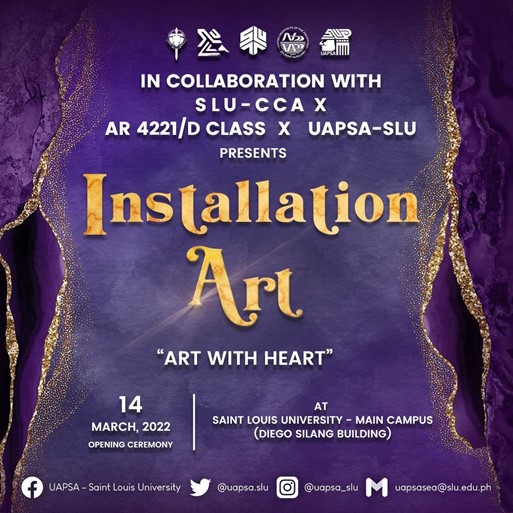 𝐈𝐧𝐬𝐭𝐚𝐥𝐥𝐚𝐭𝐢𝐨𝐧 𝐀𝐫𝐭: 𝐎𝐩𝐞𝐧𝐢𝐧𝐠 𝐂𝐞𝐫𝐞𝐦𝐨𝐧𝐲
The Center for Culture and the Arts of Saint Louis University is, once again, hosting the annual SLU Arts Festival.
In collaboration with SLU-CCA, AR 4221/D Class, and UAPSA-SLU Chapter, four Art pieces from scrap materials will be showcased and installed at Diego Silang Main Lobby, Left and Right Wing, and in front of the Admin Office; designed and conceptualized by the student Artists from the SLU Architecture Department.
Stay tuned as we bring you 𝐈𝐧𝐬𝐭𝐚𝐥𝐥𝐚𝐭𝐢𝐨𝐧 𝐀𝐫𝐭 with the theme, "𝐀𝐫𝐭 𝐰𝐢𝐭𝐡 𝐇𝐞𝐚𝐫𝐭" on 𝟐𝟏 𝐌𝐚𝐫𝐜𝐡 𝟐𝟎𝟐𝟐 – 𝐎𝐩𝐞𝐧𝐢𝐧𝐠 𝐂𝐞𝐫𝐞𝐦𝐨𝐧𝐲.
For queries and concerns, do not hesitate to contact us. Also, Like and Follow us on our social media accounts:
Instagram: @uapsa.slu
Twitter: @uapsa_slu
Facebook: UAPSA – Saint Louis University | SLU Center for Culture and the Arts
#ArtsFest2022
#SLUCCAF2022
#SLUInstallationArt
#SiningNgPagAsa