Saint Louis University is one of the fourteen selected CHED-accredited Philippine Universities that converged in the recently concluded 16th Asian International Mobility for Students (AIMS) National Review Meeting at St. Paul University Philippines, Tuguegarao City from October 24-27, 2022.
In the said meeting, AIMS Ph put together the country report of the Philippines for the AIMS Review Meeting in Seoul, South Korea.
The event was attended by representatives from all the education ministries and commissions in Southeast Easia, Japan, South Korea, Singapore, and CHED for the Philippines, including the International Relations Office (IRO) school officials. This year's observing country is Cambodia.
This year, two new universities have been selected to join AIMS Ph: Batangas State University (BatSU) and Mapúa University. In total, there are now 14 accredited member universities, including Ateneo de Manila University (ADMU), Central Bicol State University of Agriculture (CBSUA), Central Luzon State University (CLSU), Central Mindanao University (CMU), De La Salle University (DLSU), Lyceum of the Philippines University – Batangas (LPU), Saint Louis University – Baguio (SLU), St. Paul University Philippines (SPUP), University of Mindanao (UM), University of Santo Tomas (UST), University of St. La Salle – Bacolod (USLS), and University of the Philippines (UP).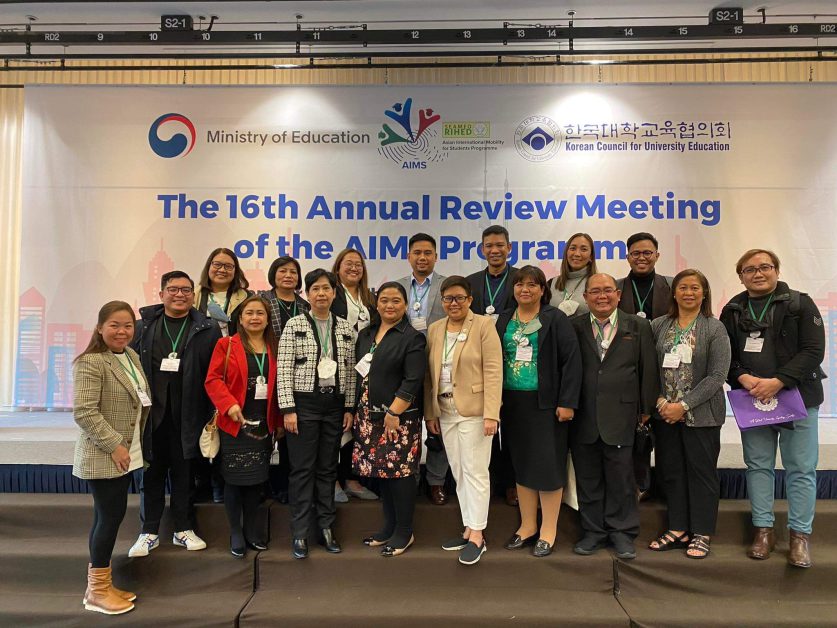 Saint Louis University was represented by ERMCAA Director Dr. Mary Grace Carrido and SEA Associate Dean Engr. Caroline Bautista-Moncada.
The Asian International Mobility for Students (AIMS) Programme is SEAMEO RIHED's flagship regional initiative to support the mobility of students and enhance cooperation in higher education among countries in Asia. The Commission on Higher Education – International Affairs Service (CHED-IAS) organizes the yearly event, which discusses the execution of AIMS's strengths and weaknesses and plans immediate efforts to close those gaps and sustain the program.