This article is written by the Political Science Academic Society (POSAS)
The Political Science Academic Society's Videocast, Usapang PopSci, addresses various topics about politics, social issues, youth civic participation, and experiences as a law student.
The first episode was an interview conducted with guest speaker, Mr. Eduard Aung Colod Kyu Jr., a DSWD central office officer. The episode centered on his work, responsibilities, and experiences. In the videocast, Mr. Kyu explained the political factors that affect our society's social welfare and zeroed in on how social workers influence political behavior and thinking. His talk shed light on the fact that experiences in social work could help enhance the effectiveness of legislators and politicians, giving them an awareness of social welfare and policy ideas for addressing social crises. Social work and development, therefore, reinforce political participation, popularize citizen empowerment, and brings political change.
The second episode was a conversation with Hon. Brian Walter James Y. Delos Reyes, a councilor from Pamplona, Cagayan. He strives for realism and fighting for the right purpose, the right way. He clarified the misconceptions postulated against the politics in the domestic realm of the Philippine localities. Before he became a local councilor, he was a professor at the Department of Political and Social Sciences at Saint Louis University and was loved and cherished by his students due to his moral compass and his passion for changing the world for the better.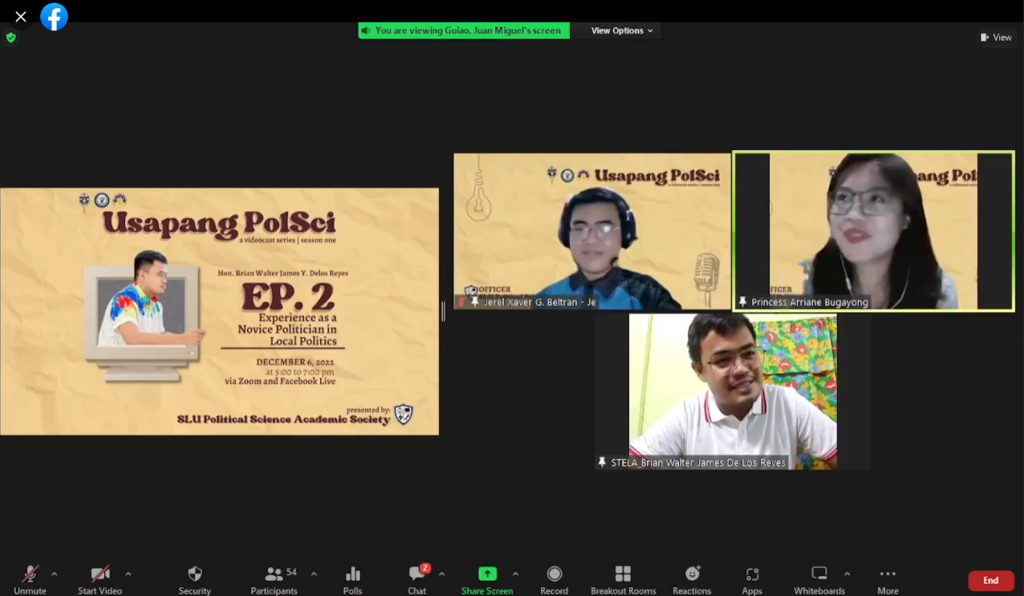 The third videocast episode was a talk with Mr. Fariz M. Dela Cruz, who tackled his life as a youth organization founder, student leader, journalist, and aspiring educator. Specifically, the speaker shared his experiences about lending a helping hand and how he manages his responsibilities all at the same time. He also talked about his advocacy for mental health awareness, their planned activities, and prepared events within the organization. Ideas about coping with social issues, genuine teacher leadership, student empowerment, and thoughts about politics in the Philippines were also among his talking points and in the two-part question and answer segment.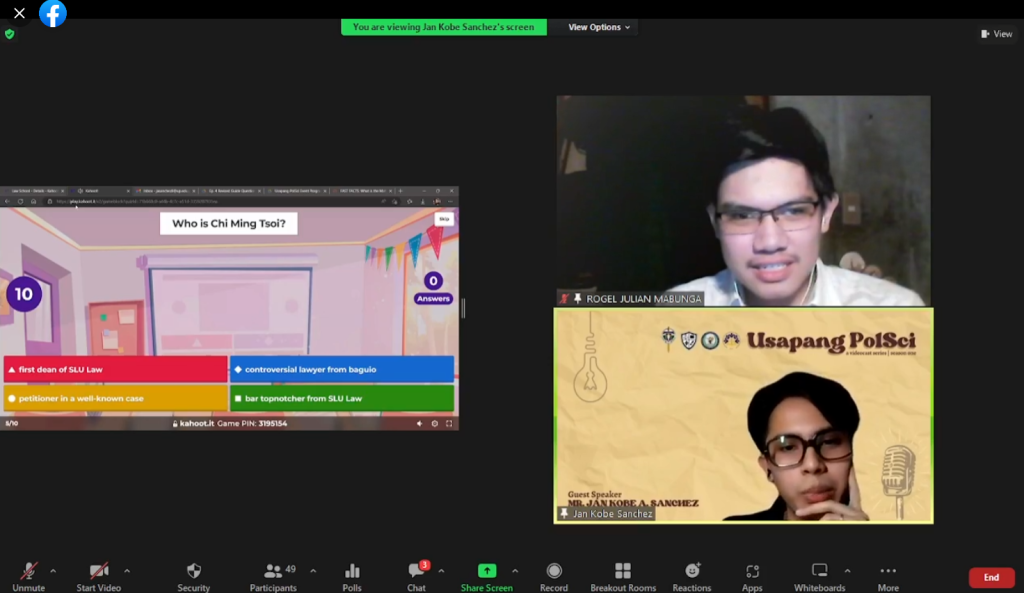 The fourth episode, which served as the finale of the Usapang PolSci videocast series, was with Mr. Jan Kobe A. Sanchez as the guest speaker. He is a first-year student of the University of the Philippines College of Law and shared about the challenges he experienced as a law school student. Similar to Mr. Delos Reyes from the second episode, he, too, was a Political Science student at Saint Louis University. Many perceive him as idealistic who is willing to change and create a positive impact on our society. His principles shout about how justice should be served and his insights toward law school provide us with a deeper and more scrutinized understanding of the field. The speaker also gave advice and pointers for those who are in pursuit of law school after graduating, enlightening everyone present in this last and final episode, especially the fourth-year students. We will bring these nuggets of wisdom until we live our paths and reach our own destinations.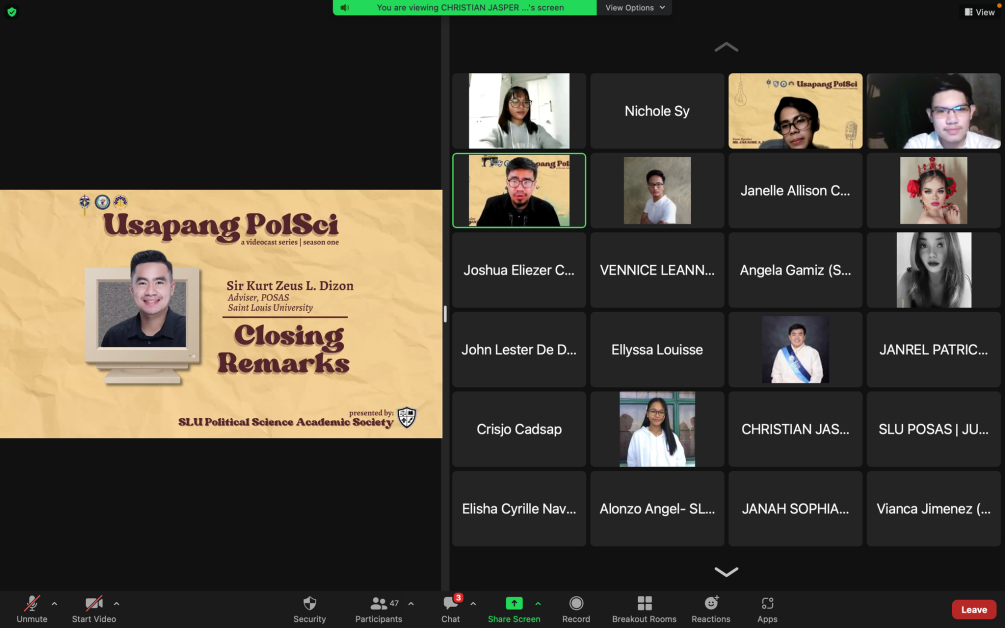 Usapang PolSci Videocast Project: Answers Targeted Needs of SDGs 4, 8, an 16
The videocast project directly answers the need targeted by SDG 4 – Quality Education, SDG 8 – Decent Work and Economic Growth, and SDG 16 – Peace, Justice, and Strong Institutions. It also is a response to the CICM advocacies since the videocast project reflects on socio-political issues that the CICM has been resolving for years. Each episode is in tune with what is happening in our country since we have been asking our guest speakers for their insights and opinions about a certain issue that their respective professions have been trying to solve. A remarkable quote from the first episode says; "as a Social Worker, it is how you uphold the principle of social justice, human rights, social change, and social cohesion in order to empower and liberate people."
POSAS and the CICM have been manifesting such empowerment to the marginalized. In terms of quality education, our fourth episode centered on improving the quality of education in our country. One of the greatest achievements that we can assure is to combat social issues that we are facing right now because as we progress together we are shedding light on those who are in need. Lastly, the second and third episodes were focused on decent work and economic growth. The speakers we invited belong to professions that desire to serve and liberate people from the tides of poverty. One highlight from both episodes is, if we cannot fully remove the presence of poverty, we should at least provide a decent environment for them to live in. Through leadership, we are opening our arms for opportunities to empower and influence the lives of the many, which will leave an absolute experience – one that will be written in the face of history.