by Remy Mae Consolacion
Multiple organizations and student publications of Saint Louis University (SLU) gathered at Lafayette Luxury Suites for a discussion on "Kasaysayan, Kaisipan, Karapatan (KKK): A Discussion on Cordillera's History, Right to Mental Health, and Assertion of Rights" on November 29.
Presented by the Cordilleran Youth Center (CYC) and the Cordillera Human Rights Alliance (CHRA), and in partnership with the Commission on Human Rights (CHR) Human Rights Education and Promotion Office and CHR – Cordillera Administrative Region, the Governance in Justice (GoJust) discussion aims to deepen the knowledge and awareness of the participants on human rights and Cordilleran history.
"Pakaistoryaan: Cordillera History of People's Resistance" and "HR 101: A Briefer on Our Basic Human Rights" were the topics in the morning plenary sessions.
Marlyn Palangdao, Training Specialist IV under the Promotion and Advocacy Division of CHR-CAR, enumerated people's rights and gave emphasis on the importance of each in her discussion stressing, "The absence of one negates the presence of the others."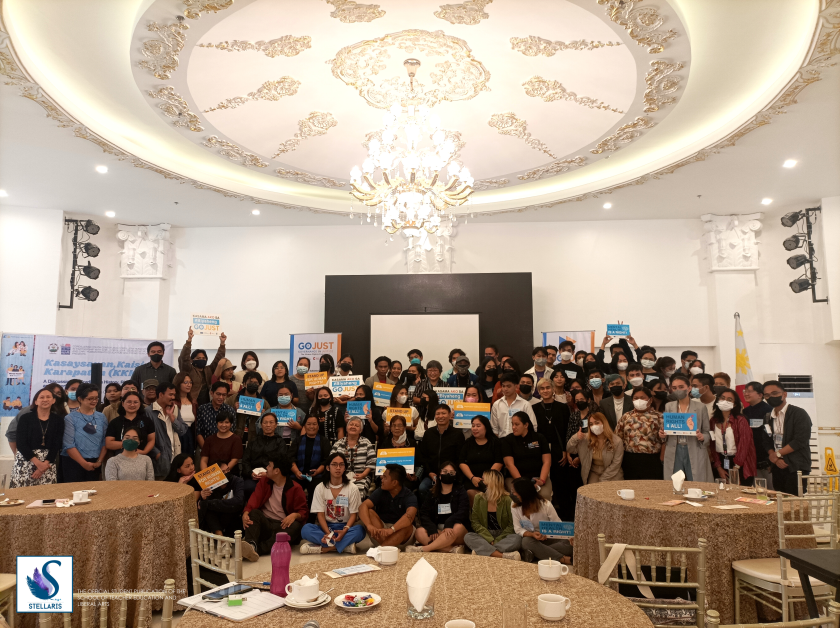 Before the lunch break, students assembled on the stage to chant, "Stand for human rights!" They also held up signs that encouraged people to stand for human rights and that promoted mental health. The SLU Supreme Student Council (SSC), Discipuli Legis Universitatis Sancti Aloysii (DLUSA SOL), SLU Political Science Academic Society (POSAS), The Buttress, Schema, and Stellaris were joined by other delegates from the University of Baguio (UB), University of the Cordilleras (UC), University of the Philippines Baguio (UPB), and Benguet State University (BSU).
When the program continued, the participants were divided into groups for a breakout session, where they consulted each other and processed the information discussed earlier together.
After this, the final plenary session commenced with the topic "Arakop (embrace): Indigenous practices of coping with stress and community solidarity."
To effectively and actively participate in their society, Louisians continue to deepen their understanding of human rights and knowledge of Cordilleran practices and history.