The American Corner Baguio of Saint Louis University, in partnership with Saint Louis University UN Sustainable Development Goals Center, spearheaded a seminar workshop entitled, "The Power of Women," at the Amphitheater of SLU Laboratory Elementary School (SLU-LES) last March 30, 2023. It was a whole-day activity in line with the celebration of International Women's Month Celebration. The seminar-workshop was participated by Student Leaders and teachers of Saint Louis University School of Teacher Education and Liberal Arts (STELA), Saint Louis University Senior High School (SLU-SHS), Saint Louis School, Inc. High School Department, Saint Louis School of Pacdal, and the Women from Banangan, Sablan, Benguet.
During the opening program, short video clips about women leaders were flashed on the screen. Shortly after, Dr. Joselito C. Gutierrez, Officer-in-Charge of SLU SDG Center welcomed the Student Leaders and Teachers in his welcome speech, followed by the lecture-workshop rationale. 
Dr. Gutierrez introduced the first resource speaker, Ms. Athena "Ash" R. Presto, who is the Country Lead 2021 Young Southeast Asian Leaders Initiative (YSEALI) Women's Network. Ms. Ash is a sociologist with six years of research and advocacy experience focused on Gender and development in the Philippines. Her talk focused on the "Role of Women in Society: Deconstructing Gender Roles." She said that the contribution and role of women in our development are significant. All we have to do is let them define and embrace their ability. Let's not dictate to them what they need to do because what we dictate to them usually oppresses them further. She works on policies related to gender inclusivity and equitable development, from the digital gender divide to the gendered informal economy. She also comments on social issues using a feminist framework and crafts policy recommendations. Ash holds a Bachelor's degree in Sociology (summa cum laude) from the University of the Philippines and currently concluding her Master's in Public Policy at the National University of Singapore (Dean's List). Her research interests center on active citizenship, equitable development, and gender equality.
Dr. Gutierrez facilitated the discussion and sharing of topic one and then introduced the second resource speaker, Mrs. Triceayn Marie D. Prestousa, Dean of Saint Louis University Office of the Student's Affairs (SLU-OSA). Her topic was "Women in Nation Building." Her talk focused on the breadth and depth of Filipinas regarding the gender gap, the status of women in the Philippines, and thriving Filipinas. Mrs. Pestousa discussed the areas of focus to thrive, such as help ourselves, support one another, ask help. Ensure that young women and girls are schooled. Ensure that women are informed of their rights, join the workforce, and participate in policy-making activities.
After the talks, a workshop was held. The participants were grouped into five. Each group must choose the top three concerns and issues the society is facing now. Then they need to do an action plan or program to mitigate the identified concerns/issues in society.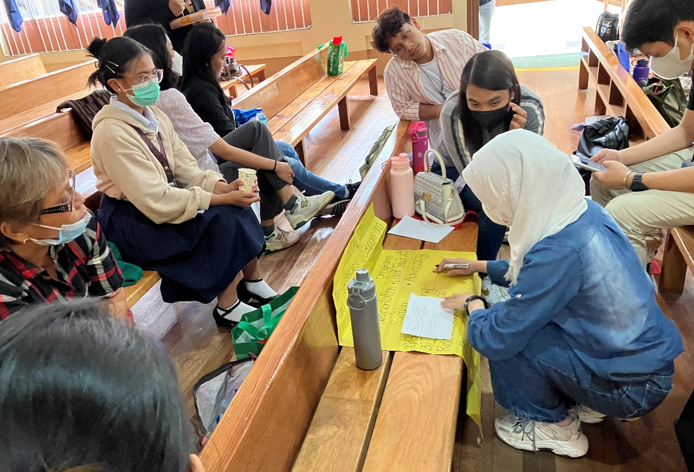 Right after the workshop, Dr. Gutierrez introduced the third resource speaker. Dr. Marjorie Balay-as from the United Nations Development Programme-Philippines. Dr. Balay-as discussed Women's Place in the UNSDG. The UN SDGs ensure that the rights of women and girls across all the goals will bring justice and inclusion, economies that work for all, and sustain our shared environment now and for future generations. Dr. Balay-as synthesized in her talk, said that We can improve women's place in our personal relationships, homes, schools, offices, and communities.
After Dr. Balay-as talked, the participants reported the output of their discussion. They pointed out the top three societal issues and concerns and the possible mitigation/solution they thought would help solve each problem/concern.