Dr. Stephenie Busbus, Graduate Program Coordinator for Teacher Education Programs and an Online Professional English Network (OPEN)/ E-Teacher Alumna co-presented in a forum with the Regional English Language Officer, Dr. Carleen Velez during the TESOL 2023 In-Person Annual Convention held at Oregon Convention Center, Portland, Oregon, USA last March 21-24, 2023.
With thousands of attendees, hundreds of education sessions, and 50+ exhibits, the TESOL International Convention and English Language Expo is the largest professional development event in the TESOL field. The Convention offers professional development opportunities to English language educators at all levels from around the world. In lively interactive sessions, educators develop a global perspective through the exchange of ideas and practices. Participants integrate knowledge of current trends in the field while developing a professional network.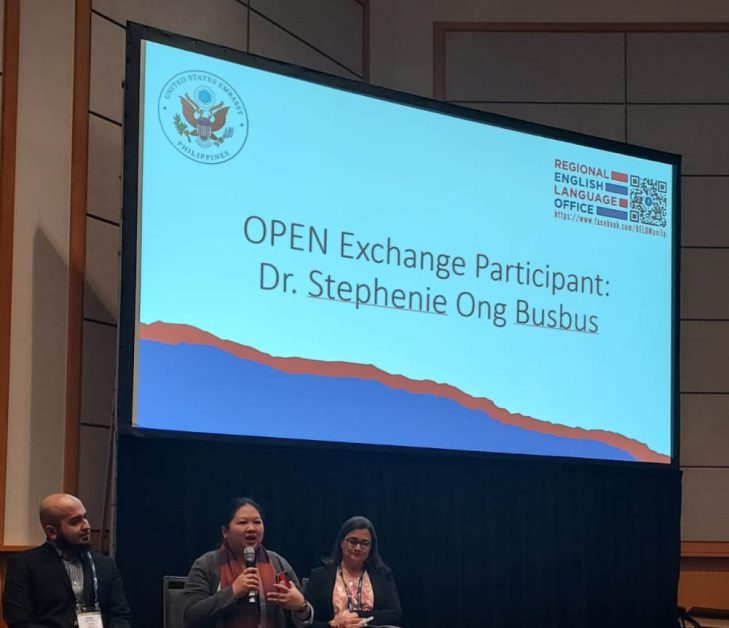 Dr. Velez shared on the US Department of State Alumni Impact in East Asia in the Philippine context in a forum. The sharing was centered on Media Information Literacy MOOC camps in the Philippines and how the camps helped in combating misinformation, especially during the pandemic. Dr. Busbus focused on the MOOC camps facilitated at Saint Louis University and their impact on the students and on the internationalization efforts of the university especially and specifically aligned with one of the internationalization frameworks of SLU which is Internationalization at Home (IaH). It has also inked a Terms of Agreement with the Divine Word College of Vigan, Saint Louis University, and the Regional English Language Office (RELO) – Manila.
Saint Louis University, through its partnership and steadfast support of the programs of the Regional English Language Office- Manila, has hosted two Virtual English Language Fellows (VELF) and one English Language Specialist. It has also facilitated four MOOC Camps and has four alumni of the Online Professional English Network (OPEN).
This AY 2023-2024, SLU will be hosting an (in-person) English Language Fellow (ELF) who will be facilitating courses in the Master of Arts in Education, major in Language Education (MALED), Bachelor of Secondary Education in English(BSED English), and Bachelor of Arts in Communication (BA Comm). Part of the deliverables of the ELF will be a series of seminars and workshops which will be open to all teachers, especially in the Cordilleras.