BA COMM Louisians Phoeboa Buen and April Anne M. Nemenzo and their team members of the Languages and Communication Department, SLU School of Teacher Education and Liberal Arts, produced the winning 2nd and 3rd place entries in the recent #FactsFirstPH video contest where they made one to two-minute videos about fact-checking and responsible social media use. The team members behind the video production include Hannah Tamayo, Roshane Dominguez, and Jodi David.
The said contest was organized by #FactsFirstPH, a "first-of-a-kind initiative that aims to debunk dubious claims online, make facts spread faster and farther than hate and lies, flag disinformation narratives and actors, and hold online perpetrators accountable." In January, MovePH launched the MIL (Media and Information Literacy) video contest to promote verified sources of information and ways for people to help curb false information.
Results of the video contest were published by Rappler, naming three winners: Rinoa Kate Dela Cruz of the Polytechnic University of the Philippines at first place, then Louisians Phoeboa Buen in second place, and April Anne Nemenzo in third place.
>
The video in 2nd place by Phoeboa Buen, Hannah Tamayo, Roshane Dominguez, and Jodi David focused on teaching people how to mitigate information disorder in current digital spaces through "a person-to-person approach in fact-checking by dealing and engaging our personal circles offline, and doing so with empathy," Waya Lao of Rappler writes. To Buen, "Fact-checking is important and should be the top priority when reading information online. We as citizens must be responsible for what to share online and for being informed in times of disinformation."
The video in 3rd place with April Anne Nemenzo's centered on a fact check done by Rappler about an ad for an unregistered product that misrepresented an endorsement by Kris Aquino. Nemenzo reminds citizens to double-check and ensure that the product or seller is legitimate. "They [social media users] need to become aware of the danger of online buying…. Sellers should be responsible for what they sell and should be taken accountable for what they post online… It's cliche to say but 'think before you click' will still be a helpful and smart choice until now, because the last thing you would do is to know when to trust and have the knowledge to decipher facts from false information," Nemenzo said.
Watch her TikTok video here.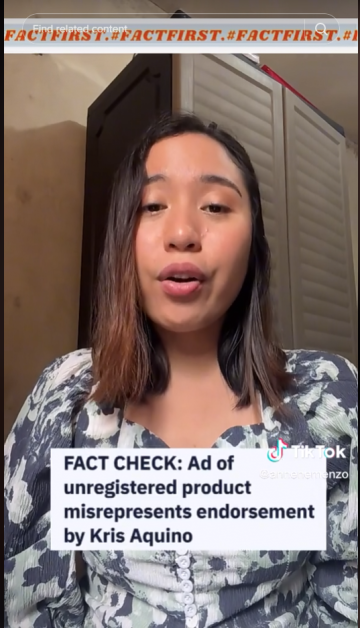 Joining the #FactsFirstPH contest entailed creating short creative videos posted on Facebook, TikTok, Twitter, and YouTube about an existing fact check, tips on combating disinformation, or practicing media literacy.