University Information Office
On August 14, 2023, the City Government of Baguio City congratulated and commended Saint Louis University for two exemplary feats: ranking 40th in Industrial Application, 43rd in Entrepreneurial Spirit, and 29th in Industrial Revolution, respectively, in the World University Ranking for Innovation (WURI); and being the 2nd Top Performing School in the March 2023 Medical Technologists Licensure Examination. 
The remarkable achievement of SLU in the WURI rankings, recognized through Resolution No. 314, Series of 2023, underscores the university's unwavering commitment to academic excellence, innovation, and the betterment of society.
The provisions of the resolution state that:
WURI is an established international ranking system that focuses on and recognizes innovative programs that make a genuine difference in society;
This year's rankings were organized by the Policy and Strategy on National Competitiveness (IPSNC) of South Korea, which received support from the United Nations Institute for Training and Research (UNITAR; the Institution for Industrial Policies Studies (IPS) based in Seoul, South Korea; and the Taylor Institute of Franklin University Switzerland (FUS) from Switzerland;
Six HEIs in the CAR region achieved recognition on a global scale for the performance of these institutions across WURI's six criteria;
The feat of  SLU as 40th in Industrial Application, 43rd in Entrepreneurial Spirit, and 29th in Industrial Revolution in the criteria and categories as ranked by WURI upholds Baguio City's title as the Education Capital of the North and proves that schools and universities in the City are globally competitive.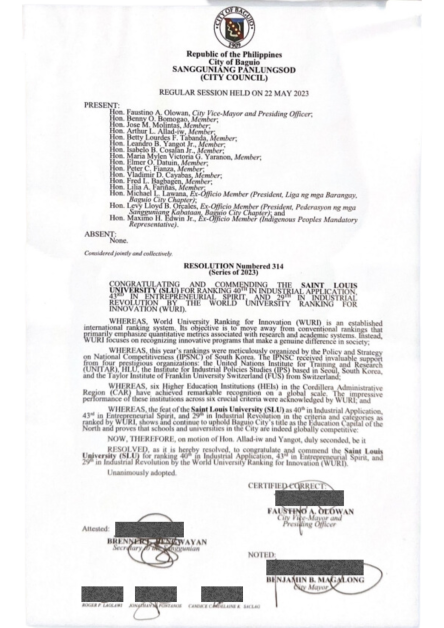 Meanwhile, Resolution No. 202, Series of 2023, applauded the University for its excellent performance in the Medical Technologists Licensure Examination with a 99.63% passing rate, ranking second nationwide. It can also be recalled that out of the top ten performing examinees, Louisian examinees from the SONAHBS Department of  Medical Laboratory Science clutched Ranks 5, 9, and 10:
STEVEN JOSEPH G. GAMBITO RANK 5 (91.5%)
JOHN RUSSEL M. PEREZ RANK 9 (91.10%)
MICHELLE VEN C. MERIA RANK 10 (91.00%)
The aforesaid Resolutions manifest the culture of academic excellence being pursued by Saint Louis University in both national and international global arenas. These also serve as tangible testaments to the dedication and efforts of SLU administration, faculty, staff, and students.