University Information Office
Saint Louis University is the host institution of the 29th Association of the Southeast and East Asian Catholic Colleges and University (ASEACCU) International Conference from August 21 to 25, 2023. Together with the ASEACCU Secretariat, the University of Saint Joseph Macao (USJ), SLU welcomes over 200 faculty and students from the nine member-countries.
With the theme, "Global Goals in the Core of our Common Home: A Catholic Response," the conference serves as a platform for international educational dialog through shared lectures, a faculty and staff conference, a student conference, cultural exchanges, and visits to local exposure sites.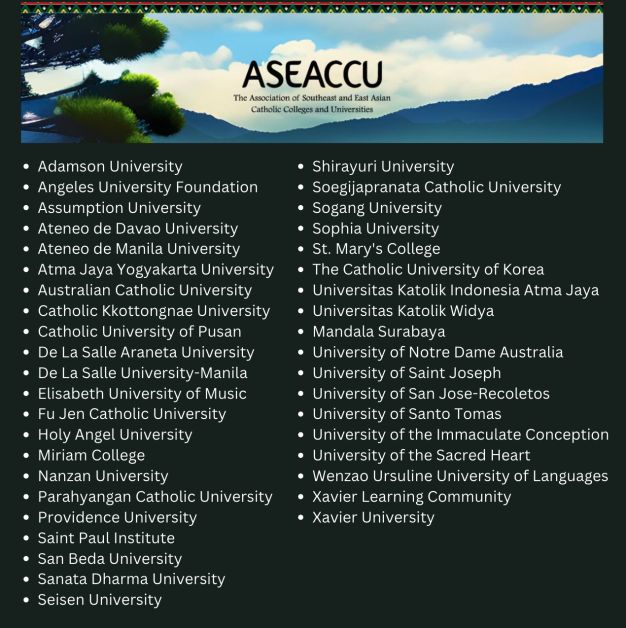 The opening ceremonies will highlight messages from Rev. Fr. Gilbert B. Sales, CICM, SLU University President; Rev. Prof. Stephen Morgan, Rector of University of Saint Joseph – Macao; Hon. Benjamin Magalong of the City of Baguio; Rev. Fr. Roland P. Buyagan, Diocesan Administrator of the Diocese of Baguio; and J. Prospero E. De Vera III, DPA, Chair, Philippine Commission on Higher Education.
The keynote speaker for the 29th ASEACCU International Conference is François Mabille, the Secretary General of the International Federation of Catholic Universities (IFCU). He is a thought leader with significant work as the founder of the Research Centre on Peace with Joseph Maïla contributing to the introduction of the Peace Research movement in France and a statutory researcher of the Societies, Religion and Secularism Group of the National Center for Scientific Research (CNRS). From the foregoing, his central address, "IFCU, A Global Tool for the Care of our Common Home," will undoubtedly challenge perspectives and inspire participant towards the overarching theme of this year's ASEACCU conference. Joining him as speakers during the four-day event are:
Mr. Rodne R. Galicha, Executive Director, Living Laudato Si' Philippines National Convener, Aksyon Klima Pilipinas;
Architect Donna R. Tabangin, Officer, Baguio City
Prof. Montserrat Alom, SJ, Director of the Macau Ricci Institute;
Prof. Stephan Rotlin, SJ, Director of the Macau Ricci Institute;
Most Rev. Gerardo Alminaza, Bishop of San Carlos, Diocese of San Carlos City, Negros Occidental;
Rev. Fr. Aloysius Ma. A. Maranan, O.S.B., Rector-President, San Beda University;
Mr. Quintin Pastrana, President, Energy Power Pilipinas;
Asst. Prof. Nestor R. Ong, MSIE, PIE, ASEAN Engr., Deputy Director, Office of QS/THE Rankings, University of Sto. Tomas (UST);
Mei Mei Lim, Director of Consultancy, Times Higher Education;
Assoc. Prof. Richard Colledge, Interim Dean of Theology and Philosophy;
Ms. Jacqui Reymond, Lecturer, School of Theology Laudato Si Consultant;
Dr. Stephenie O. Busbus, Chair, Institutional Reputation and Effectiveness Committee, SLU;
Dr. Karen Tagulao, Programme Coordinator for the Bachelor of Environmental Sciences, University Of Saint Joseph Macao (USJ); and
Prof. Dermot Nestor, Executive Dean, Faculty of Theology and Philosophy, Australian Catholic University.
Beyond the lectures and other activities relative to the Ex Corde Ecclesiae, Laudato Si, and Sustainable Development Goals, the conference includes scheduled excursions in which participants will have an immersive experience of local and global cultures as well as the advocacies of SLU  through a Student Night featuring presentations by student participants of ASEACCU member schools, cultural presentations by the SLU Center for Culture and the Arts (SLU-CCA) Performing Arts Group, and site exposures to the Banangan Women's Association, Mount Costa, and Mirador Heritage and Eco-Spirituality Park.  
ASEACCU: A Forum for Dialogue, Resources, and Reflections on the Catholic Institution Identity
ASEACCU is a regional association of Catholic universities in countries in Southeast and East Asia. Its purpose is to promote Catholic higher education and provide support to local churches. ASEACCU also aims to contribute to educational dialog internationally beyond the Southeast and East Asian region. Faith, scholarship, and ethical leadership are central to ASEACCU's mission to encourage and promote Catholic higher education as a service to society.