by Mrs. Aimee B. Awas, Religion Coordinator
A total of 213 Grade Three pupils and some pupils from Grade 4 to 6 received their First Holy Communion which marked the commemoration of the Feast of the Immaculate Conception of Mother Mary last December 8, 2022, at the Prince Bernhard Gym, Saint Louis University, Baguio City.
The Eucharistic celebration was officiated by the University President, Rev. Fr. Gilbert B. Sales, CICM. In his homily, Father Gilbert emphasized the great importance of keeping in one's heart the value of attending the Holy Mass, especially on Sundays. He likewise challenged and invited all the parents and guardians to continue modeling Christian ways of living at home. This activity was spearheaded by the Campus Ministry Office in collaboration with the Religion department under the supervision of the Office of the Vice President for Mission and Identity.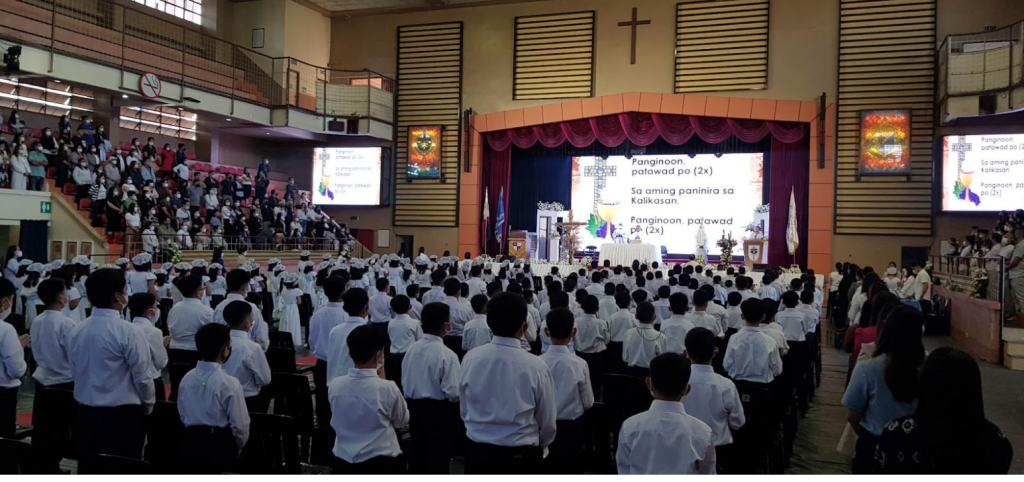 Quality education is one of the sustainable development goals set by the United Nations that will help transform the world. As a Catholic school, SLU BEdS LED commits to ensuring not only quality education but quality catholic education among its pupils. Part of this is the spiritual formation of its clients which is the ultimate goal of the Religion subject being offered. Bringing the pupils to worship which includes the First Holy Communion is an empirical support to this. Moreover, the school believes that this spiritual formation activity also promotes the well-being of the pupils which is one of the sustainable development goals. The well-being of a person does not only target the physical but also of the mental, emotional, and spiritual aspects.