by Alec Benjamin P. Lingan, Vice President for Administration, SICAP
On April 22, 2023, the alumni virtual roundtable, "Hiraya Manawari," was held via Zoom and Facebook Live to provide encouragement, tips, and greater knowledge to Louisian students as they venture into entering the workforce. The roundtable discussion featured a dialogue among the alumni figures from SABM/SAMCIS focusing on their post-graduate career experiences. The invited alumni guests were Mr. Xavier Cabungcal, Mr. Job Hanrhee Cuta, Ms. Michelle Pronto, CPA, and Chef Odessa Florentin.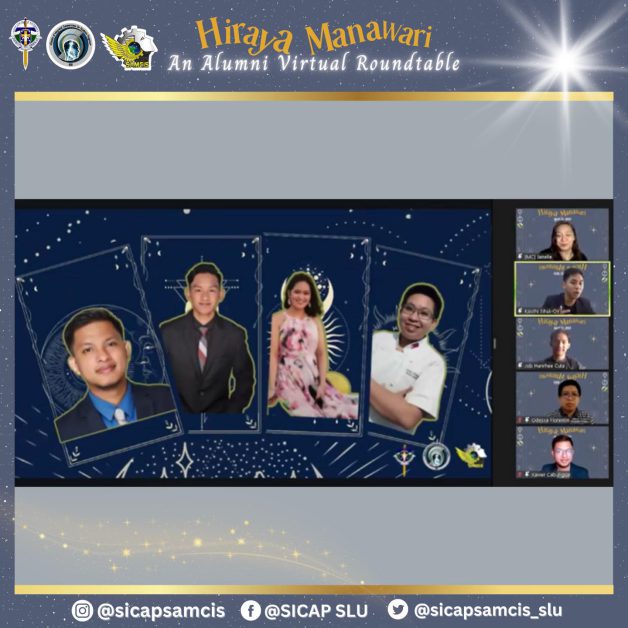 This activity promotes Justice through SDG 4 – Quality Education, SDG 8 – Decent Work and Economic Growth, SDG 9 – Industry, Innovation and Infrastructure, and SDG 16 – Peace, Justice, and Strong Institutions. Through the roundtable discussion, viewers were able to engage through the sharing of actual relevant experiences from those who have already established themselves in the professional world.
With alumni perspectives coming from various industries, including one working in a foreign country, students acquired an aptitude for discussion to demonstrate openness for other worldviews so that they may learn to accept personal responsibility for their feelings and validate the perceptions of co-workers in the future workplace.
The CICM Advocacy – Justice was achieved throughout the event through the dialogues of alumni on how they can respond to the call for justice by honoring the Lord's guidance and society's laws and contributing to upholding a sense of tranquility in the working society. A question was asked to the alumni about making a just decision in dealing with difficult co-workers. They can answer in such a way that composure is kept in given circumstances and ensure that an unjust outcome is precluded.