by Pielle Andrei D. Obedoza, SEA – BSCHE IV
Effective solid waste management remains a top issue today, and finding a solution is essential for environmental and health reasons. As a response to the growing concern about incorrect solid waste disposal, the Solid Waste Management group of the 4th year Chemical Engineering Students who are enrolled in the course ChE 4251L conducted a seminar entitled, "Waste is Not a Waste Until We Waste: An Overview of the RA 9003" on May 5, 2023, from 8:00 to 11:00 am, at the SIRIB Center, Otto Hahn Building. Thirty-three participants and a ChE faculty member attended the seminar. 
This event is part of the ChE Convergence 2023 organized by the Philippine Institute of Chemical Engineers – Junior Saint Louis University Chapter (PICHE-JSLUC), and it aims to honor the achievements of the environmental movements and advocacies of raising awareness on the need to protect the Earth's natural resources. The seminar also helps students ponder how they contribute as future chemical engineers in solving solid waste-related problems because they are majoring in this issue. Engineers frequently consider effective designs that support sustainability and long-term solutions to situations in the planning and design stages.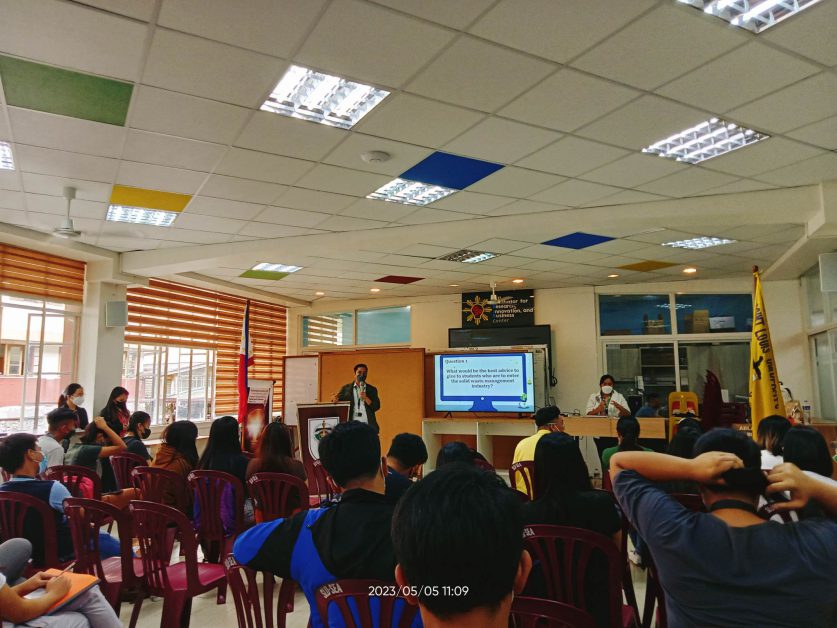 The event began with a seminar briefing by Lorie Jean Benwasen, one of the event organizers. This is followed by the opening prayer and remarks by Nicole Dompayag and Yvonnie Talbino, respectively. Engr. Daves B. Guron, the event's speaker, took the floor for his informative talk. His address covered an introduction to solid waste management, initial steps to solid waste management, solid waste management hierarchy, and the provisions in RA 9003. After this, the attendees participated in the quiz show to gauge their understanding of the topic. A Q&A session then transpired where Engr addressed questions and clarifications. Guron. The seminar ended with awarding the token and certificate to At 10:43 am, the token Engr. Guron, with the assistance of Engr. Gizelle Pascua, one of the advisers of the course – Plants Inspection and Seminars (ChE 4251L).
This activity is highly related to achieving Sustainable Development Goal No. 13 (SDG 13, Climate Action) since the thrust was on Ecological Solid Waste Management which is directly linked to climate change. The knowledge-sharing session served as climate action through information dissemination. Other SDGs tapped in the event include SDG 4 Quality Education and SDG Partnership for the Goals.
As to the CICM Advocacy, the event is in line with Justice and Peace. During the day's program, students were given time to communicate and create creative names for their group freely. Integrity of Creation was also evident since the seminar was an act to show care and concern for creation and the environment.