by Carazelli A. Furigay, PhD, Department Head, Department of Business Economics & Financial Management
The Department of Business Economics and Financial Management of Saint Louis University was invited to attend the awarding ceremony of the MART X CFAP Cup: Inter-Collegiate Bonds Trading Competition organized by the Money Market Association of the Philippines, Inc. (MART) and CFA Society of the Philippines (CFAP) last May 19, 2023, held at the Ayuntamiento de Manila Building, Bureau of the Treasury, Intramuros Manila.
The Financial Navigators, the team representing Saint Louis University who competed for the first time, were able to make it to the Finals. They ranked number 8 out of 15 finalists from different schools in the Philippines. The team comprises top students of BSBA Financial Management, namely Liana Maeve A. Ang, Gian Carlo S. Dolipas, and Joseph Immanuel C. Abalos. They were mentored by their faculty coach, Dr. Chinkie V. Marquez.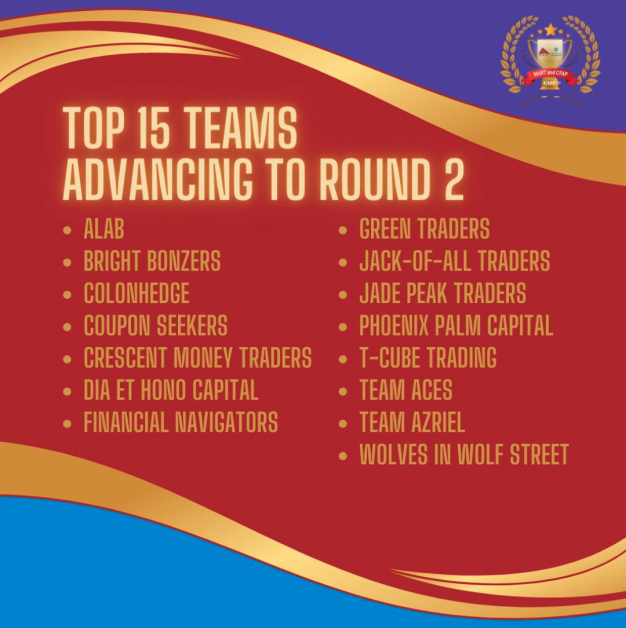 The MART x CFAP Cup: Inter-Collegiate Bonds Trading Competition is a two-month market simulation game from March 2023 to May 2023. It aims to test the student's skills in market reading, fixed-income analysis, and trading through actively buying and selling government securities in real-time and under real-world market scenarios.
This activity contributes to the UN Sustainable Development Goal 4: Quality Education because students were able to broaden their knowledge of bond markets, investments, trading, and portfolio management. Moreover, it is an opportunity for them to apply the finance theories and concepts they learned in the classroom to trade bonds and manage fixed-income trading positions in a simulated environment while being mentored by professional money market dealers and experienced fixed-income traders.
Additionally, this activity embodies the CICM Advocacy for Peace as students were encouraged to engage and interact with fellow students from other schools in this friendly competition through a market-friendly yet expertly facilitated competition. The event promotes equality among the student participants and encourages collaboration with other schools. Such competitions help students develop their industry skills valuable for their future success.