by Mae Janica Palkit for the University Information Office
Saint Louis University (SLU) received recognition from the Professional Regulatory Board of Psychology (PRB-Psychology) for its remarkable performance in the 2023 Psychometricians Licensure Exam. The award was presented during the Oath Taking Ceremonies of New Psychologists and Psychometricians held on 18 September 2023 at the Cordillera Convention Hall, Baguio Country Club. Dr. Pauline Namoca, the Dean of the School of Teacher Education and Liberal Arts, received the award and certificate on behalf of SLU.
SLU ranked fourth among schools, colleges, and universities with at least 50 examinees and at least 85% passing percentage, with an overall passing rate of 92.66%.
Out of the 8,370 examinees who took the Licensure Exam on 1 to 2 August 2023, 202 Louisian candidates successfully earned their licenses.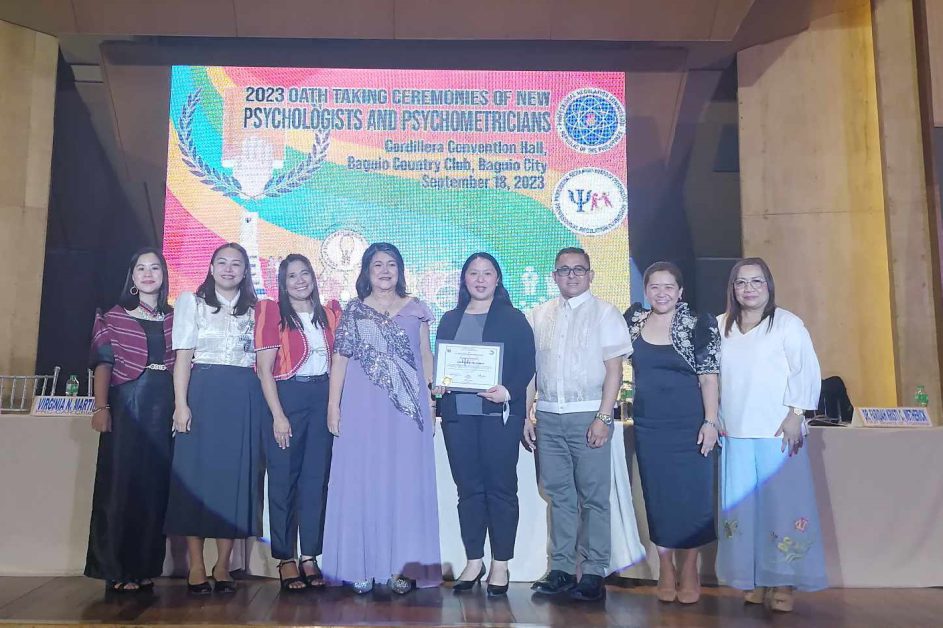 The Oathtaking featured a special moment when Shaena Kassandra Aquino, one of the 10 topnotchers, delivered a heartfelt reply on behalf of her fellow new psychometricians.
Moreover, the Oath Taking Ceremony was graced by the presence of Hon. Miriam P. Cue, Ph.D., Rpsy, RPm, Chairperson of the PRB-Psychology, and Hon. Hector M. Perez, Ph.D., a member of the PRB-Psychology.