On October 4, 2022, Saint Louis University hosted "Hiyas," the triennial (every three years) award for outstanding and exemplary artists, cultural workers, and creative organizations in the Luzon region. This is the third regional award implemented by the Kaisa sa Sining (KSS) project of the Cultural Center of the Philippines through its Cultural Exchange Department, headed by their dynamic leader Mrs. Carmencita Bernardo.
Fourteen artists and institutions were recognized this year: Alfonso "Coke" Bolipata (Zambales); Mark Anthony Carpio (Bulacan); Kristian Cordero (Camarines Sur); Maria "Whang-Od" Oggay; Al Perez (Bulacan); Felicito Sacdalan (Bulacan); Arman Sta. Ana (Bulacan); Peter de Vera (Pampanga); Artist Inc. (Laguna); BAAO Children and Youth Choir (Camarines Sur); Barasoain Kalinangan Foundation Inc. (Bulacan); Lakas Sining (Bulacan); Manunubli ng Sinala (Bulacan) and Mauban Historico Cultural and Arts Council (Quezon).
Saint Louis University Mounts Center for Culture and the Arts Hiyas Award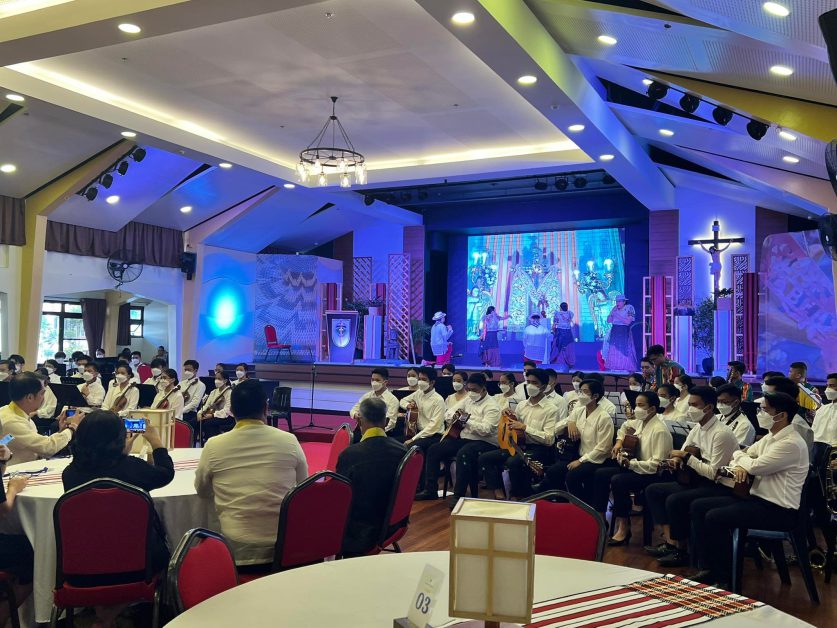 The Center for Culture and the Arts assisted the Kaisa sa Sining staff in mounting this successful event that recognizes the exceptional individuals and organizations who have contributed immensely to the flourishing of arts and culture in their respective regions. The different performing groups of the CCA (Glee Club, Dance Troupe, Concert Orchestra, Symphonic Band, and Tanghalang SLU) paralleled the other invited artists with their first-rate performances.
SLU President Rev. Father Gilbert B. Sales underscored in his opening remarks that in our Christian faith, our God is the MASTER ARTIST; hence, it is important to consider the boundless wonder of creation in our surroundings – only God could create something that is magnificent. "In the Bible, where the greatest story of art creation is written," Rev. Fr. Gilbert said, "man is considered God's masterpiece and through our talents, God gave us the ability to display His beauty."
The Hiyas Awards affirms the awe-inspiring artistic works and advocacies of different creative individuals and organizations. Mabuhay ang Kultura at Sining!