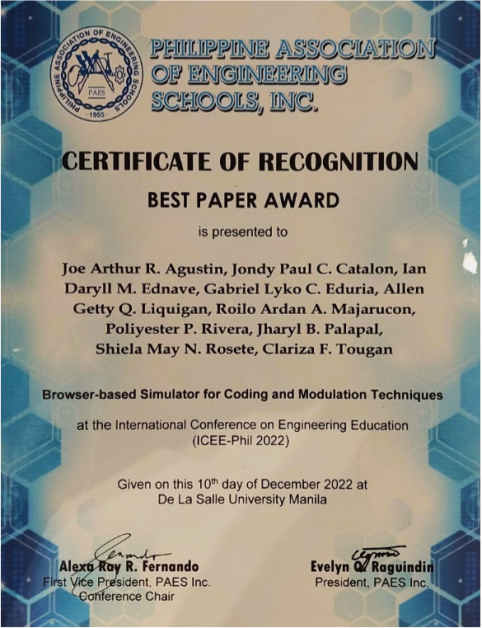 Engr. Joe Arthur Agustin and his Bachelor of Science in Electronics Engineering undergraduate research group won the Best Paper Award in the International Conference on Engineering Education-Philippines hosted by the Philippine Association of Engineering Schools (PAES) Incorporated at the De La Salle University Manila on December 9 and 10, 2022.

The research paper entitled Browser-based Simulator for Coding and Modulation Techniques bested papers from other universities in the Philippines under the fields of Computer, Electronics, and Mechanical Engineering Education. Other members of the group are from SLU BSECE Batch 2022, namely: Jondy Paul Catalon, Ian Daryll Ednave, Gabriel Lyko Eduria, Allen Getty Liquigan, Roilo Ardan Majarucon, Poliyester Rivera, Jharyl Palapal, Shiela May Rosete, and Clariza Tougan.

In the same event the SLU School of Engineering and Architecture Dean, Engr. Jeffrey Des Binwag, was elected as the PAES Vice President for Luzon and Engr. Lovely Rañosa of the SLU Civil Engineering Program was recognized for her invaluable contribution as a member of the PAES Journal Editorial Staff.

ICEE-Phil is an annual gathering of engineering educators in the Philippines and nearby regions to foster sharing of knowledge and best practices for the advancement of Engineering Education in the country. There were 18 papers that were accepted for presentation under three engineering education categories.