by Kathrina E. Lacanaria
Learning how to save lives through hands-only CPR was one of the major activities lined up for the teaching and non-teaching personnel of the Basic Education School (BEdS) last March 6, 2023, in connection with the Family Day and Family Welfare Program 2023 of Saint Louis University. The training, held in the Gonzaga Gym of the elementary department, was held in coordination with the Philippine Heart Association Baguio-Benguet Chapter and the Philippine College of Physicians-Northern Luzon Chapter. It was made possible through the initiative of the medical team of the BEdS.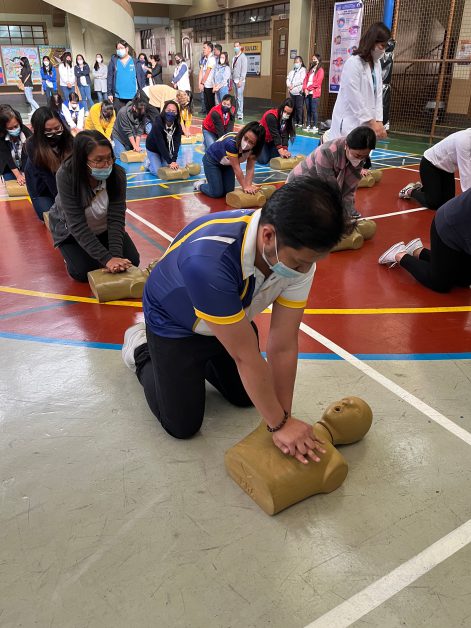 Dr. Josephine Tindungan began the training by sharing the advocacy of the said association, which, in essence, is how basic life support is essential because, without immediate and appropriate intervention, out-of-hospital cardiac arrest victims can lose their lives. Dr. Desi James Ojascatro then stressed the importance of surveying the safety of the scene, checking for the unresponsiveness of the victim, calling for help, and starting CPR which make up the essential steps in performing CPR. The use of an Automated External Defibrillator (AED) was also demonstrated. As supervised and evaluated by the doctors, all the BEdS personnel performed and demonstrated the proper steps and techniques in doing hands-only CPR using the mannequins provided by the association.
Moreover, Code 52100 was also emphasized and particularly shared by Dr. Timothy Bjorn M. Lagos. 52100 means having 5 servings of fruits and vegetables in a day, less than 2 hours of screen time and less than 2 grams of salt in the diet, 1 hour of physical activity, 0 or no sugar content in drinks, and no smoking. These measures were strongly recommended to be put into practice in order for us to keep a healthy heart. Dr. Clinton Balud capped the first part of the training by sharing a testimony about the significance of having sufficient knowledge in conducting Basic Life Support as this has saved his life. The other physicians who assisted the employees in their return demonstration were Dr. Milagros Restua, Dr. Rogelyn Olais, and Dr. Louis Shiu.
Under the Family Welfare Program of the University, these activities are beneficial to the entire workforce as it manifests the institution's genuine concern for the well-being of its employees, their family members, and the community in general. It is directly linked with SDG No. 3, Good Health and Well-being, which is one of the primordial advocacies of the medical-dental clinic.