By: Rica Isabel Riolada, SEA
Saint Louis University – Team B chemical engineering students emerged as champions in the 44th Inter-University Chemical Engineering Quiz Show as part of the annual Student's National Chemical Engineering Conference (SNCEC). SLU Chemical Engineering students have participated in this event for as long as it had been running. For the past five years, the closest the delegation had been to the top was in 2018 when the team won 4th place.
This year's event was participated by two competing teams from each university including Adamson University (AdmU) Ateneo de Davao University (AdDU), Batangas State University(BSU), Cagayan State University (CSU), De La Salle University (DLSU), Mapua Malayan Colleges Laguna (MMCL), Mindanao State University (MSU), Pamantasan ng Lungsod ng Maynila (PLM), Saint Louis University (SLU), Technological Institute of the Philippines, University of the Philippines–Los Banos (UPLB), and Xavier University (XU). SLU Team A is composed of third-year student Kyle Mabbayad, with fourth years Mesia Magtibay and Daryl Valdez. While Team B was represented by fourth-year Martin Ebol, third-year Mark Angel Permato, and second-year Rinoa Carola. Both teams were coached by Engr. Jonalyn Kimpay, and assisted by Engr. Melissa Boado.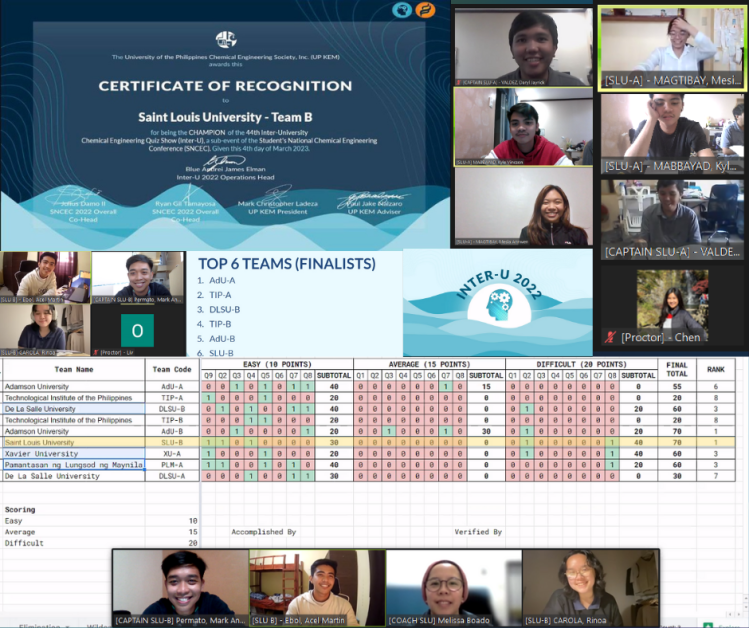 Images from the Philippine Institute of Chemical Engineers – JSLUC Official Facebook Page
SLU Team B was included in the top six finalists after the elimination round. A wild card round commenced completing the nine finalists: AdU Teams A & B, TIP Teams A & B, DSLU Teams A & B, XU Team A, and PLM Team A. During the final round, SLU Team B tied with Adamson Team B. Both teams vying for first place had to go on a clincher round.
SLU Team B answered the two clincher questions correctly and bested over 22 teams from other participating state colleges and universities in the country. The winners were given recognition during the Zoom meeting right after the event and won a cash prize of Php 6000.