by John Michael A. Guerzon – Faculty, Basic Education School (Junior High School)
"15 000 scientists say that we are in the eleventh hour. Most of these scientists say that climate change is not a scientific problem but a moral and spiritual problem".
-Ms. Maria Victoria D. Bautista (Co-founder and Board Member, Zero Waste Baguio, Inc.)
Saint Louis University served as this year's host for the 2023 Catholic Educational Association of the Philippines (CEAP) National JEEPGY Conference held at the Fr. Francis Gever's Hall last April 19-20, 2023, with the theme "Moving Forward in Synodality to Address the Climate Emergency." The conference underscored the key role of synodality in addressing climate emergencies. Learning from each other, the event provided an avenue for conversation and sharing of the best initiatives advocated by different institutions in the hope of providing a sustainable future.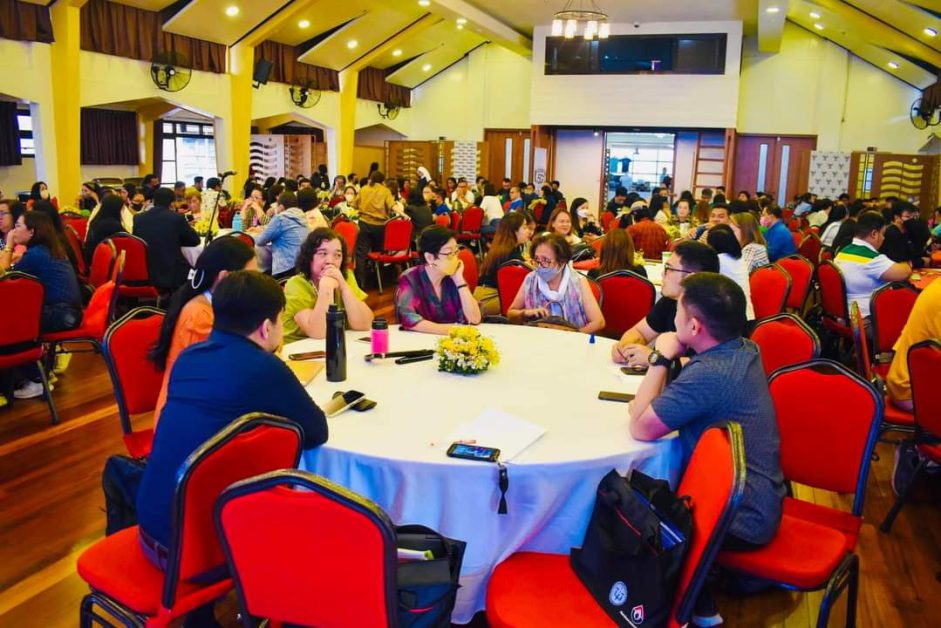 A Positive Disturbance
The conference started with a series of panel discussions highlighting how serious the climate change problem is. Dr. Donna Paz T. Reyes, Ms. Maria Victoria D. Bautista, and Mr. Michael G. Umaming featured data-driven insights leading to the realization that the Philippines is part of a more extensive global ecosystem. Despite this, simple measures taken by various schools across the nation can have a bigger impact if more schools carry them out. This also made the attendees realize there is still hope and that Catholic schools must take action rather than relying solely on local or national initiatives, as Rev. Father Gilbert Sales shared with the participants during the open forum.
The first day was capped with a field trip showcasing the city's ecological sanctuaries. The participants visited Mount Costa and Mirador Hill Eco-Spiritual Park. SLU is a fitting venue for the conference as it is situated in a UNESCO Creative City—it fosters more sustainable and responsible ecotourism.
A Call for Urgent Action
Day 2 was composed of a series of panel discussions focused on actions that Catholic Schools in the Philippines can take to combat and mitigate climate change. Sr. Marvelous L. Misolas, MM tackled the Philippines' participation in Pope Francis' 7-year journey towards an integral ecology. Dr. Joselito C. Gutierrez shared how the commitment of Saint Louis University to the Pope's Laudato Si through the plan and program recognized by the Vatican Dicastery. It was followed by concurrent sessions on JEEPGY: Justice and Peace, Engaged Citizenship and Youth Empowerment, Poverty Reduction, and Gender Equality. Mrs. Charmaine P. Mendoza, also shared how SLU responds to Laudato Si through the extension programs. To reinforce the conference's main theme on synodalitity, it was capped off with a solidarity dinner that provided an avenue for the participants to forge connections for the development of future programs.
The challenge to Catholic educators in addressing climate change as a moral and spiritual problem is the main essence of the event. In connection with this, the conference revealed another challenge to administrators in their decision-making—solving the tension between when to tackle an issue through collective and individual action, consumerism, and changing world views.