by KC Loverlyn S. Dimalanta
Women in SEA is an International Women's Day Celebration on March 8, 2023, at the Otto Hahn Building. The event included a march along the hallways of the Otto Hahn building and a motivational talk led by Ms. Germelina Cynthia Dacanay-Jaramillo, the Coordinator of the Mental Health and Psycho-social Support Program of the Cordillera Women's Education Action Research Center, Inc. (CWEARC, Inc.).
The project aimed to address discrimination against women in Engineering and Architecture, recognize women's contributions and motivate SEA's female students and faculty to continue inspiring everyone in Engineering and Architecture.
The project is aligned with both Sustainable Development Goal Number 5, which aims to promote gender equality as a fundamental human right, and the CICM advocacy for peace and justice by eradicating gender-based discrimination within the School of Engineering
and Architecture community.
There were two main events during the celebration:
The March
The march took place along the hallways of the Otto Hahn Building from 10:30 AM to 11:00 AM and 4:00 PM to 4:30 PM. The events committee and an officer in charge led the morning march, which started on the first and ended on the fourth floor. By 4:00 PM, the assembly and some volunteers had already gathered, holding their placards with motivational quotes for women's empowerment. The march ended successfully, and the assembly proceeded to the venue of the motivational talk.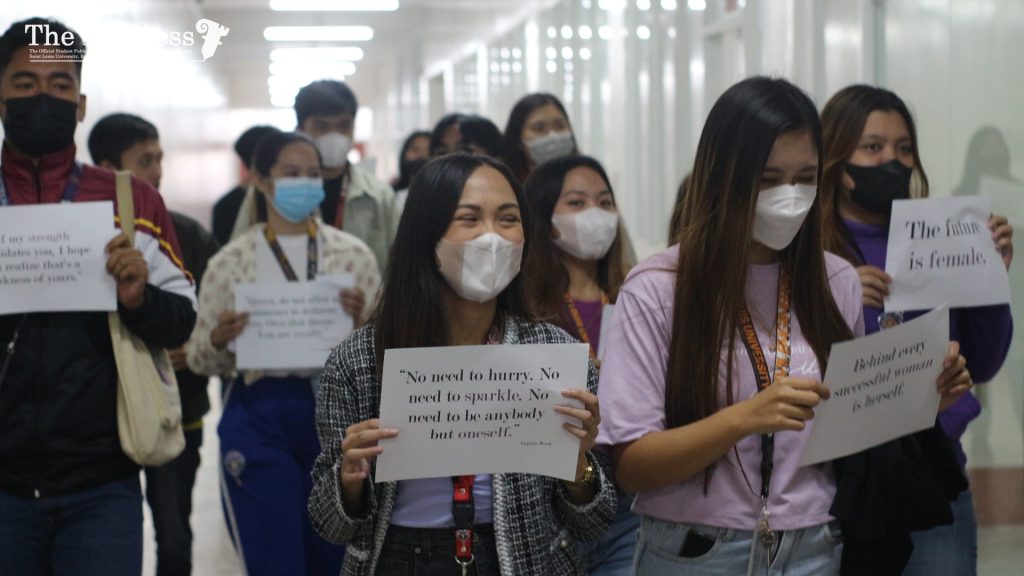 The Talk
The motivational talk started at 5:00 PM, hosted by Mr. Markus Masi and Ms. Julianne Fangonil. During her presentation, Ms. Cynthia discussed various issues surrounding women's discrimination. She provided a brief history of how women have been objectified over the years, stemming from the perception of women as symbols of beauty and femininity, limiting their ability to work outside their homes. Ms. Cynthia highlighted that even today, women are often expected to prioritize their appearance, leading to insecurities and a lack of confidence for many women.
The talk also focused on how discrimination against women affects the fields of Engineering and Architecture. Ms. Cynthia presented statistical data to support her arguments. She emphasized the progress made by the Philippines toward gender equality and providing opportunities for women in the workforce, particularly in Engineering and Architecture. The talk concluded with a flash mob, where the audience and hosts danced to the "One Billion Rising Dance" led by CWEARC.