by John Patrick Molina, Student Intern, BA Communication
Two groups from the SLU BA Communication seniors under the Languages and Communication Department of the School of Teacher Education and Liberal Arts were selected as finalists in the Philippine Journalism Research Conference 2023 at the University of the Philippines, Diliman, on May 05 with the theme, "Journalism and Generation Truth." More than 100 entries were received for the various categories from universities nationwide. Stories and research about community issues and journalism challenges topped the shortlist.
For the Journalism Research-Community Studies Category, John Patrick Molina and Kristine Ingrid Rivera presented their study "In the Eyes of a Bystander: Understanding the Motivation of Citizen Journalists in Information Dissemination and Collection as a Lens in Exploring Post-Pandemic Storytelling" and won the 4th place. Co-researchers are Brian Rae Asilo and Diana Grace Balce. On the other hand, Remy Mae Consolacion presented their documentary "In-Game Dreamer" for the Special Projects-Documentary Feature Category and ranked 7th place.
MacLuhan Fellowship for Excellence in Journalism
The Philippine Journalism Research Conference 2023 featured two significant events. The morning session was set for the Macluhan Panel Forum. BA Comm seniors Ms. Consolacion, Mr. Molina, and Ms. Rivera had the chance to personally meet and listen to the country's most towering figures in journalism, from Karmina Constantino (ABS-CBN News and Current Affairs), Joseph Morong (GMA Integrated News), to Miriam Grace Go (Public Trust Media/Rappler Inc.), who are all recipients of the McLuhan Fellowship for Excellence in Journalism, as the guest speakers in the particular McLuhan Panel Forum.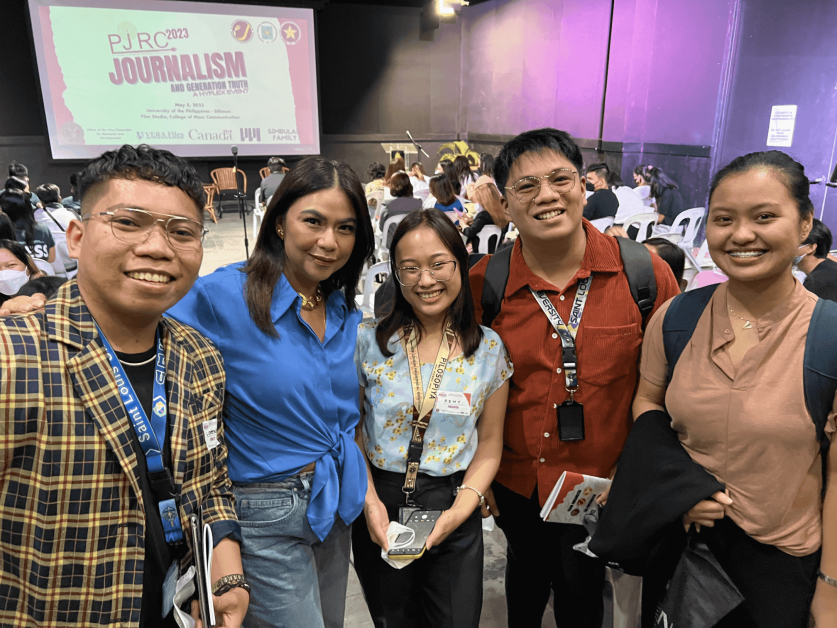 The afternoon was dedicated to the awarding ceremonies of the various categories of the Philippine Journalism Research Conference 2023.