The Junior Financial Executives of the Philippines pioneered a free webinar, FORWARD 2023: Championing FinTech in the 21st Century, last April 29, 2023, Saturday, from 1:00-5:00 PM, via Zoom Conference. The primary delegates were Financial Management students of Saint Louis University.
The organization partnered with JRFINEX from Tarlac State University, Xavier University, and Pamantasan ng Lungsod ng Maynila. Honorable speakers, Mr. Armin Paul Allado, CFA from the Bureau of Treasury, and Ms. Julina May Gaddi from Union Digital Bank covered "Data Literacy in Financial Management and Commerce, and Financial Technology and "Data Trends in the Philippines and its Impact on the Economy," respectively.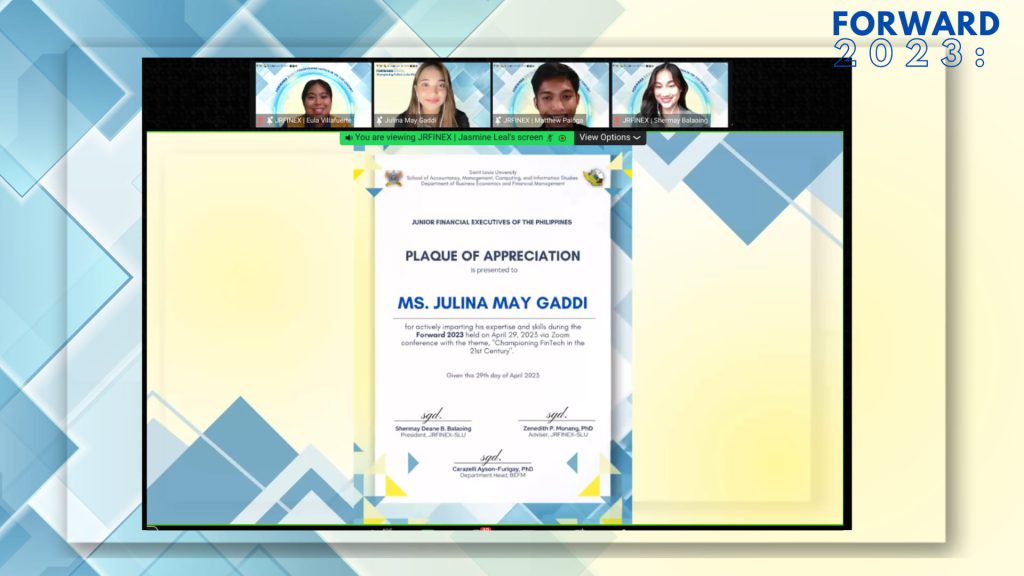 The activity targets the UNSDG, Quality Education, as it covers relevant and advanced topics in the field of finance. As technology continues to reshape finance, professionals with FinTech knowledge are in high demand. Quality FinTech education equips individuals with the skills and knowledge needed to thrive in this dynamic industry. It also targets the CICM advocacy of Peace and Justice, as it allows young professionals to gain FinTech knowledge for free. FinTech equips individuals with a unique skill set at the intersection of finance and technology, preparing them for rewarding careers in a rapidly evolving industry.