On Tuesday, Nov. 15, the Professional Regulation Commission (PRC) announced that out of the 3,828 who took the board exam, 2,390 examinees passed the November Pharmacist Licensure Examination given by the Board of Pharmacy in Manila, Baguio, Cagayan de Oro, Cebu, Davao, Iloilo, Koronadal, Legazpi, Lucena, Pagadian, Pampanga, Rosales, Tacloban, Tuguegarao, and Zamboanga this November 2022. The 96.40% passing rate landed Saint Louis University at the top of this year's Pharmacist Licensure Exam Rankings.
With the groundbreaking passing percentage (107/111) ), the Pharmacy Department at the School of Nursing, Allied Health and Biological Sciences has emerged as the TOP PERFORMING SCHOOL in the country and has produced Maurize Kezhia L. Macatangay (92.15 %) as a Top 5 placer.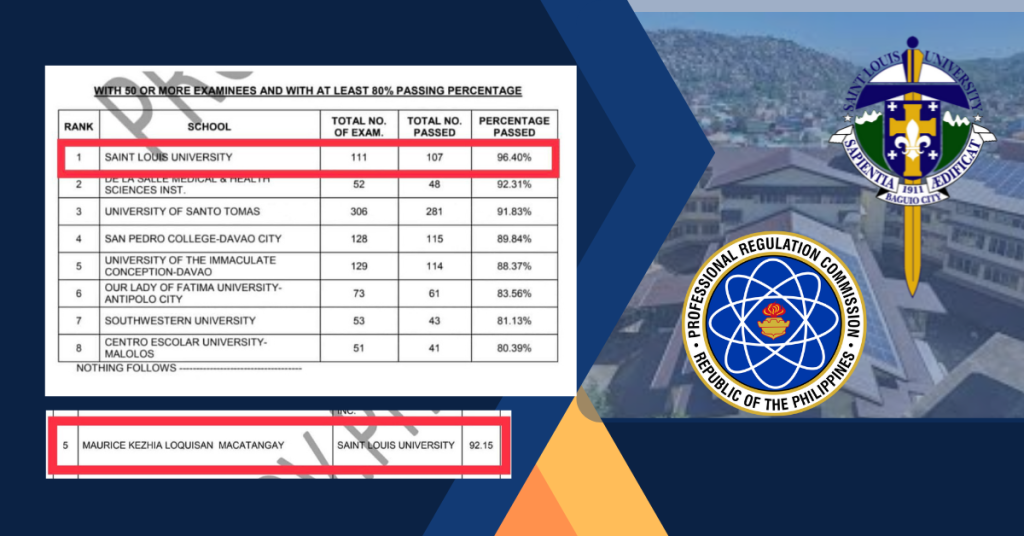 Following the end of the examination, the results were released three working days later. The date and venue of oathtaking ceremony will be announced later, PRC said.