by Alec Benjamin P. Lingan, Vice President for Administration, Society of Integrated Commercians for Academic Progress
The first session of the SICAP BLT Tutorial-Webinar series was conducted on February 11, 2023, from 2:00 PM to 5:00 PM through Zoom Meeting and Facebook Live. The speaker of the said webinar was Atty. Bernadette S. Mendoza, a Regulatory Framework and Business Transactions (RFBT) professor from the Accountancy, Business Laws and Taxation Department at the School of Accountancy, Management, Computing and Information Studies (SAMCIS).
The webinar discussed the country's Labor Law, including relevant and recent updates this legislation has had as a review for students with RFBT subjects. These include basic concepts such as components of labor standards and the classification of employees. Moreover, the discussion includes the basis of the state policy in the CPA Licensure Examination table of specifications to provide the foundation for the significance of studying labor law and social legislation. To include the students in the discourse, a series of multiple-choice questions were prepared by Atty. Mendoza allowed participants to answer within a minute before these were explained.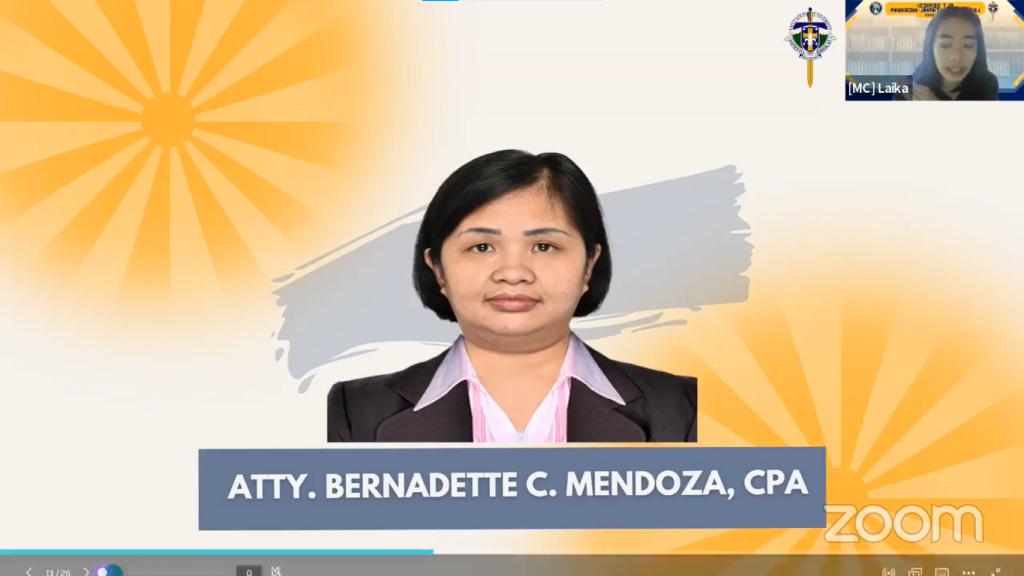 Since this tutorial-webinar was specifically done for students to prepare for the preliminary examinations, it serves as a supplementary review. It promotes responsible study habits that the students can apply in the future. Especially those SAMCIS students taking up a board exam for their chosen career path. Students are introduced to the concept of social justice, equitable practices, and rights for employees. At the same time, they hone their resolution of issues and innovative approach-making abilities for the future workplace of the students.
The CICM Advocacy, specifically Justice, resonated throughout the event as knowing every worker's rights and protection through the Labor Code obstructs taking advantage of the employer-employee relationship. Students are instructed to make just decisions in the event since it is all about effectively preserving individual and social liberties while fostering fundamental morals.
The specific sustainable development goals being achieved are SDG 4 – Quality Education, SDG 8 – Decent Work and Economic Growth, SDG 9 – Industry, Innovation and Infrastructure, and SDG 16 – Peace, Justice, and Strong Institutions.