On March 6, 2023, a research team from the Industrial Engineering program of the School of Engineering and Architecture at SLU presented their paper, "Design, Development, Prototyping, and Pilot-Testing of an Ergonomic Farmer's Chair," during the 13th International Conference on Industrial Engineering and Operations Management. The researchers include Geraldine G. Nerona (Professor of Industrial Engineering), Michelle C. Adiwang (Professor of Industrial Engineering), Maya Kayne S. Lagrana (Production Planning Analyst, Texas Instruments Philippines, Inc.), Jezel Jade G. Gumallaoi (BS Industrial Engineering Batch 2022), and Czarina Mae C. Grospe (BS Industrial Engineering Batch 2022). The paper was presented virtually via the Zoom platform.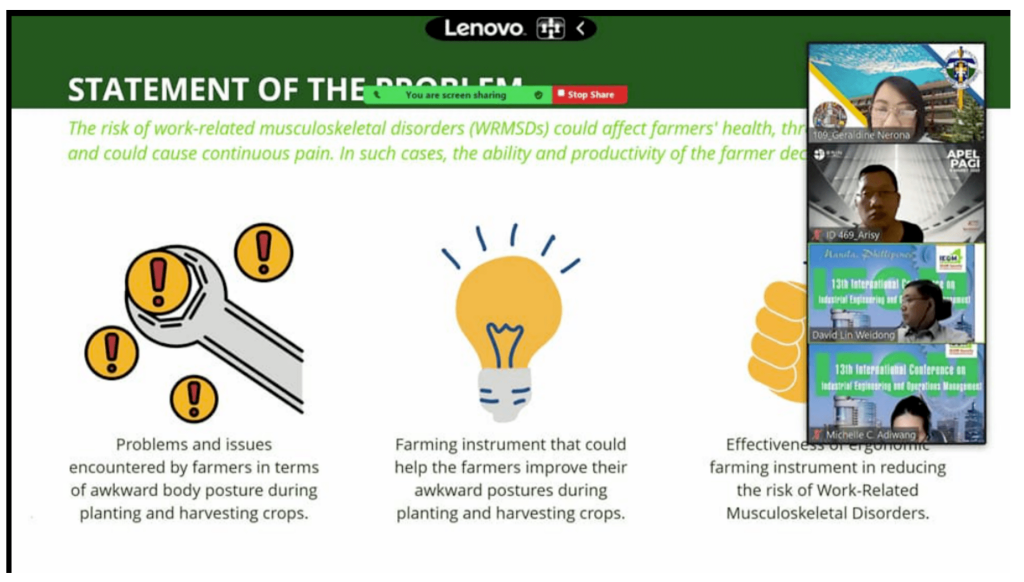 The study tackles the effectiveness of using an ergonomic farmer's chair in reducing the risk of musculoskeletal disorders in agricultural workers. It is a way to answer the need of the agricultural sector in many countries still addressing the poor working conditions of farmers, especially those who own small farmlands. The paper presentation is a way to disseminate to a much larger audience, a low-cost yet effective way to uplift the quality of work life of the farmers. This will lead to better working conditions, reduced risk of injuries from work, and productivity improvement. The conference became a platform to share the collaborative study of faculty and students with the international community.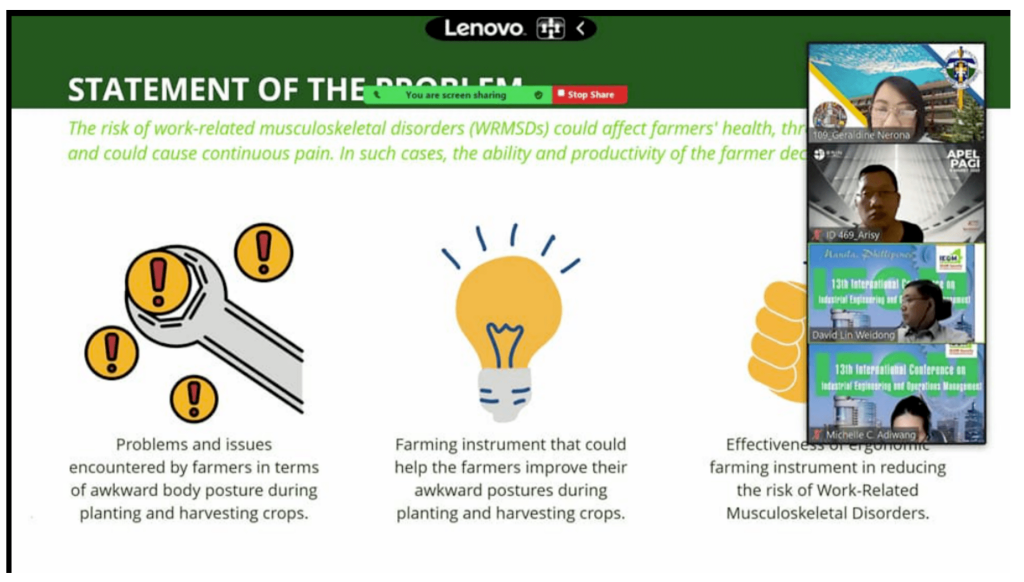 SDG 4- QUALITY EDUCATION
The paper presentation fulfills the encompassing cycle of education demonstrated by instruction, research, presentation, and publication. The article that was presented, which also be published, is an outcome of the IE Capstone course that provides innovative and practical solutions to production systems through industrial engineering tools.
SDG 8- DECENT WORK AND ECONOMIC GROWTH
By presenting the paper, the farming communities are able to have a more practical and low-cost solution to the musculoskeletal risk caused by manual farming activities. This ergonomic farming implementation will aid in uplifting the farmers' quality of work life as they continue to provide food security for the coming generations.