By Roshane Dominguez and Hannah Tamayo, White & Blue
The collaboration between the Languages and Communication Department of the SLU School of Teacher Education and Liberal Arts, SLU Basic Education School (Senior High), and NorthCon brings the first-ever campus edition to NorthCon's conference series entitled "COMMversations: Ethical Content Creation and the Digital Landscape." The event was held at the SLU Laboratory High School Covered Court on May 15, 2023.
Participants were SLU-LHS senior high school students from the different strands of Humanities and Social Sciences (HUMSS), Science, Technology, Engineering, and Mathematics (STEM), and Accountancy and Business Management (ABM), as well as Bachelor of Arts in Communication students.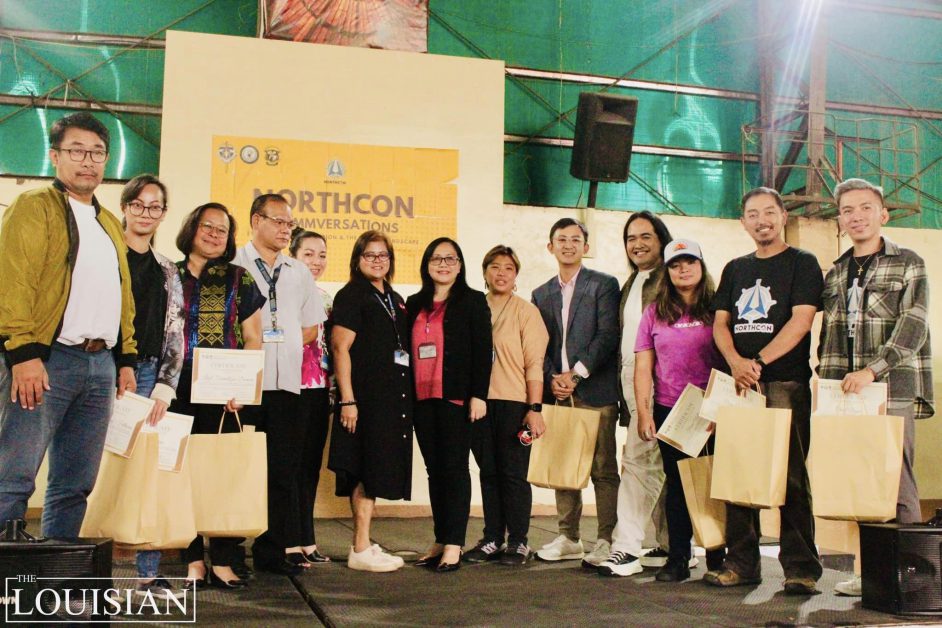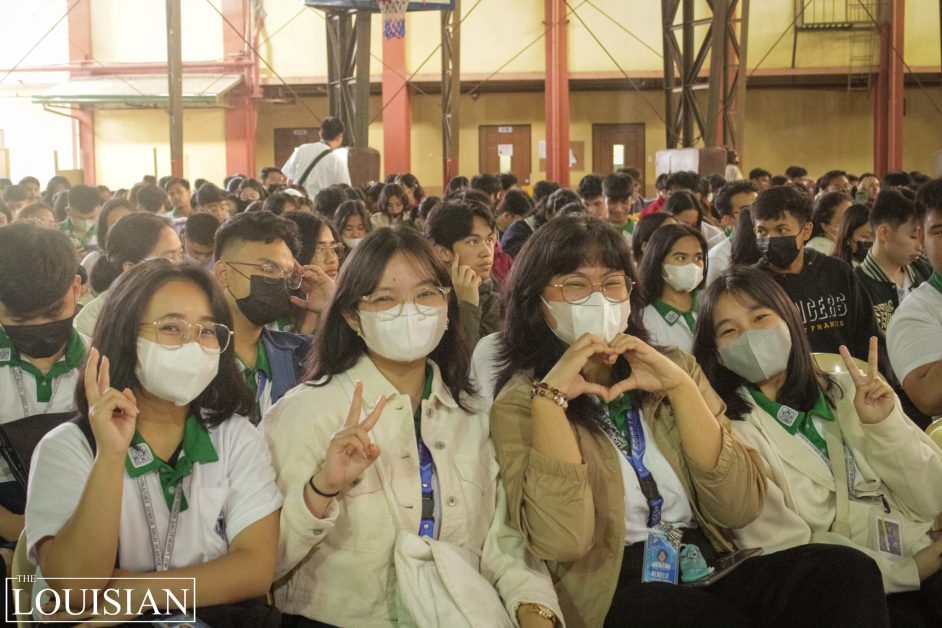 Dr. Joselito Gutierrez, the Executive Assistant to the President of Saint Louis University, officially opened the conference and stated that this collaboration between SLU and NorthCon highlights the importance of knowing about ethical content creation, Philippine copyright, and updates on the media and communication industries and professions. Since communication is in the DNA of all organizations, companies, agencies, and communities, it is urgent to elevate the function and standard of the communications practice in traditional and new media, which should be held accountable through ethical practices and principles.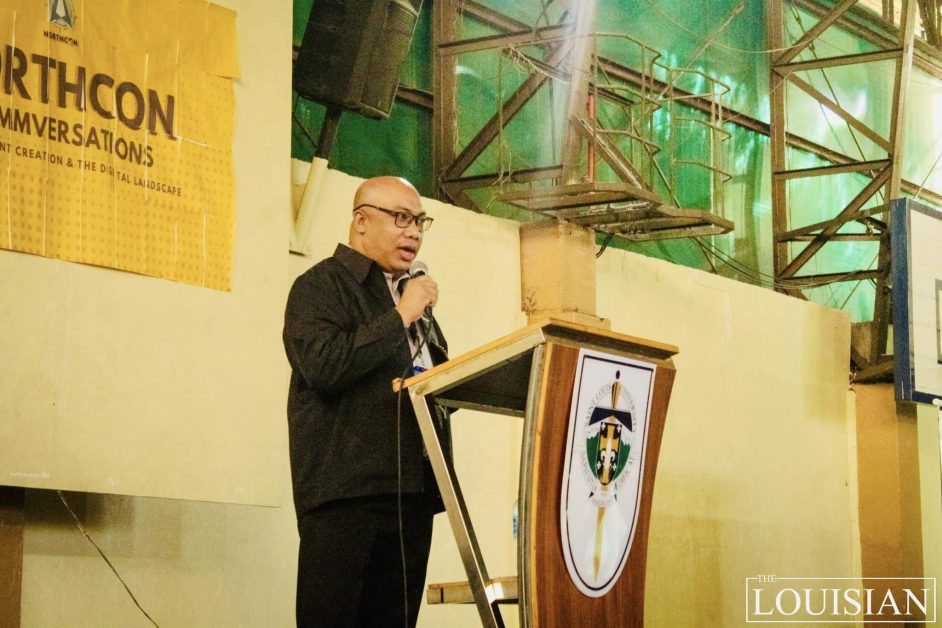 According to Chino Chow, president of NorthCon, the event aims to advocate responsible digital media presence, making sure to adhere to ethical content creation. "Since everyone is into content creation, we have here a group that's advocating responsible digital media presence. So iyon lang naman gusto namin within the group – to make everything ethical and follow ethical content creation," Mr. Chow stated.
Speakers tackle content creation
During the conference, Louisians learned from content creators, media practitioners, entrepreneurs, and digital marketers as they shared their experiences and expertise in digital media, particularly topics on content creation, copyright, and the business side of social media.
In the first discussion, Rommel Fallarme, a co-founder of NorthCon, content creator, and entrepreneur, discussed "Ethical Content Creation" while tackling clout-chasing in social media and freedom of expression.
"Learn to dispute, refute, and listen too. Then have the common sense to learn the whole story and differentiate and the wisdom to do what's right because if not, it becomes the norm."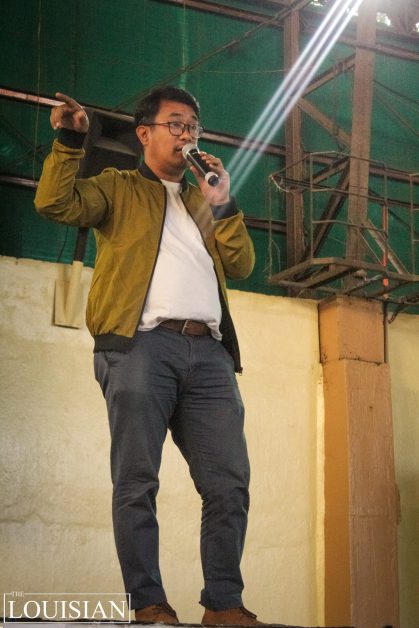 Moreover, Liezl Dunuan, a Communications and Management Professional and content creator, discussed copyright — its types, misconceptions, and proper usage in her talk "CTTO: Copyright Conversations." "In a society where knowledge is power, where knowledge empowers us and helps us progress in our society… it's important for us to protect those who create content."
She reminds Louisians to "think before you post when using one's digital presence. Before sharing your posts, think about their potential consequences. Analyze the information to see if it is appropriate and if it could harm you or other people."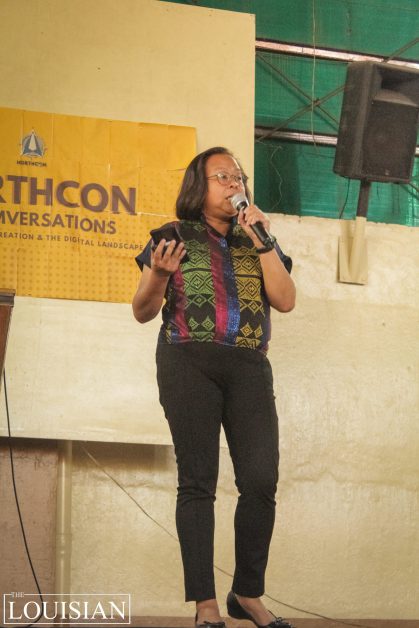 Meanwhile, Dean Cuanso, a digital marketing specialist, content creator, photographer, and entrepreneur, talked about how social media users can earn online in his topic, "The Confetti of Things." Everything online is business, he says. "It's all about knowing the right market segment, knowing the right capacity to pay. So kahit na libo-libo, daang-daang libo 'yong followers mo, hindi yan nag-eequate sa mas maraming pera," Mr. Cuanso said.
On a more personal note, especially in social media, Mr. Cuanso shared a reality that everyone should watch out for: "The more we get attention online, the more we get addicted to it."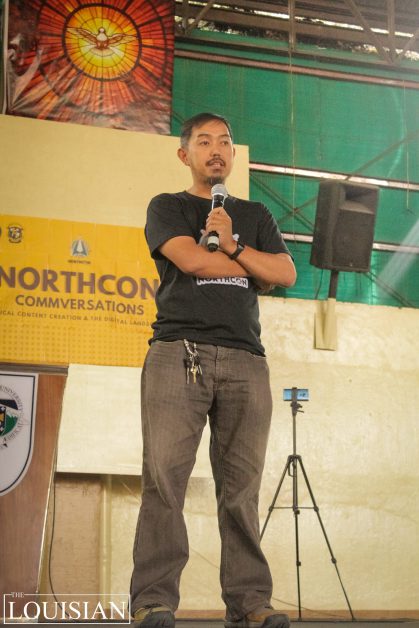 Following the talks, a panel discussion was conducted with panelists including Chino Chow, Aman Razalan, Fiona Katherine Abellera, Ane Fallarme, and Chad Dizon.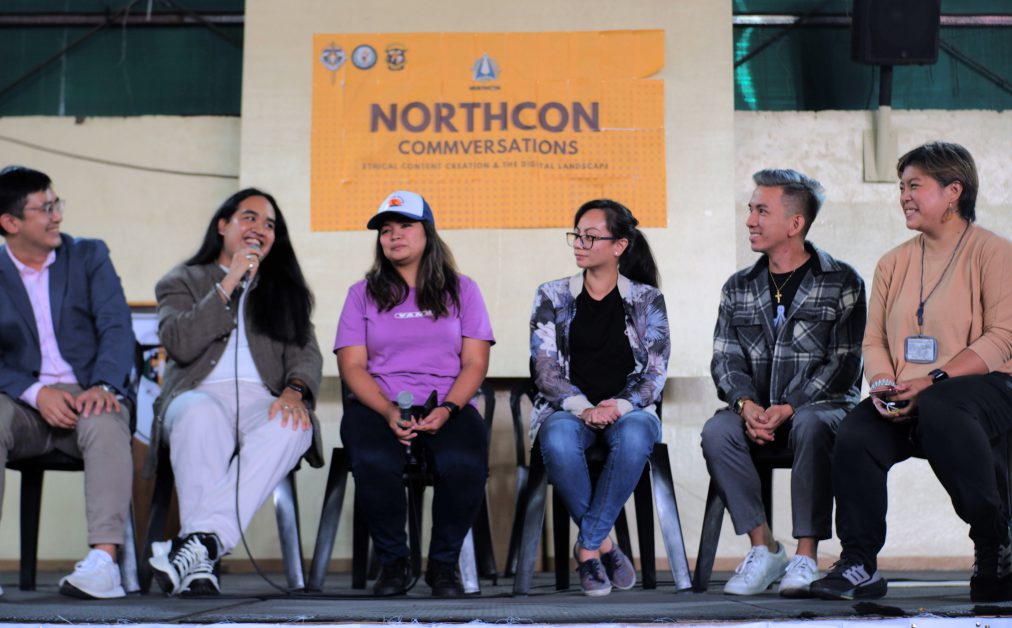 Given the years the panelists have in various communications professions, they shared helpful and meaningful insights with the Louisians that helped them prepare as future professionals.
Among the most notable takeaways of the day were:
"Do not be afraid of failures. Failures make you stronger." – Chino Chow
"If you pursue what you love, you won't feel like working." – Ane Fallarme
On figuring out what to do in the future: "I gave myself the opportunity to try. Don't be afraid to go out of your comfort zone." – Fiona Abellera
On filling the gap for needed expertise: "If no one's going to do it, I'm going to do it." – Ane Fallarme
"Embrace your creativity. Quality content should be able to inspire, to inform, and should be relevant and helpful to people." – Aman Razalan
"Content creation is an art. It also needs to follow certain policies, guidelines, ethics, in creating content." – Chad Dizon
'Embrace creativity'
During the conference, a series of promotional videos by 3rd year BA COMM students were played, showcasing a glimpse of the Communication Degree in SLU and the different achievements of BA COMM students.
The first campus edition of NorthCon was spearheaded by the Language and Communication Department headed by Dr. Marinel Piamonte and co-organized by the second-year BA COMM students of the Public Relations class of Ms. Jocelyn Amadeo. It was also made possible with the coordination of the SLU Communication Society, Mr. Alejandro Pablico, and Mrs. Lorna Lucas of SLU Basic Education School, Senior High School.
The nature of the event is in line with SDG Goals 12 (Responsible Consumption and Production), 17 (Partnerships for the Goals), and 4 (Quality Education).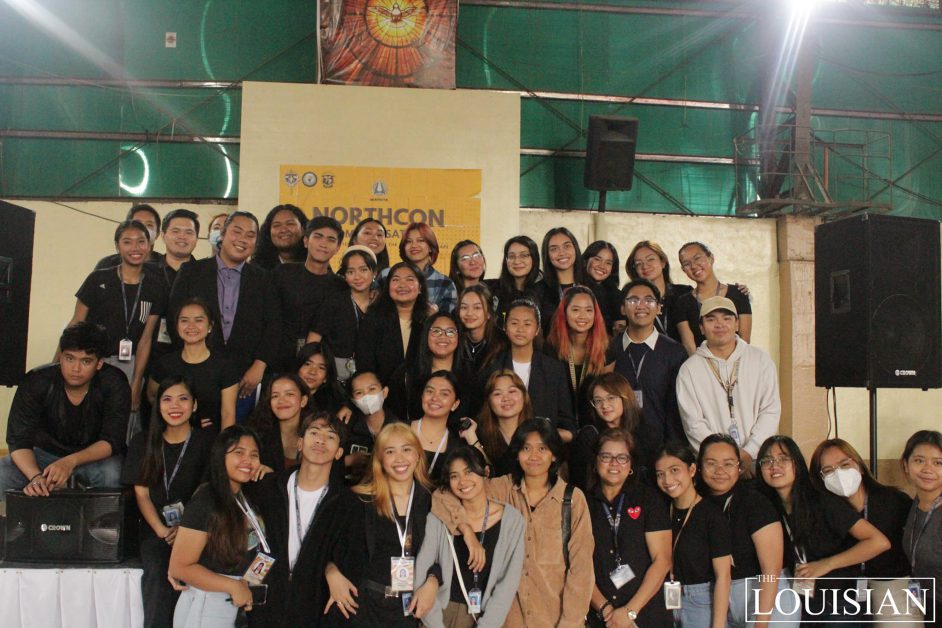 In an interview, Ms. Kaye Leah Sitchon, one of the instructors of the SLU BA Communication program, adviser of the Communication Society, and member of NorthCon, highlighted the relevance of creativity as a profession today.
"I think it's to open their mind to possibilities, to see themselves in the light that their potential and creativity can be a profession. That's one thing not being highlighted in the professions, (that) a creative person can have so many opportunities, and to embrace creativity in a professional sense," she advised.
'Not merely consumers'
Other participants also shared their experiences on the first-ever campus conference-based discussion.
"I was actually very surprised that it's very relevant to the times. Usually, when you get talks about technology, about social media, it's very outdated, but all of the speakers, all of their talks were very up to date." Erin Salvador, a HUMSS student, said.
"Ang full purpose kasi niya is to educate on media literacy. So I think napakaimportante ng media literacy kasi we live in a digital era and as Gen Zs and as communication students malaki 'yong responsibilidad natin sa pag-didisiminate and pag-cocollect ng information. We are not merely consumers anymore, we are also producers so dito tinackle 'yong ethical content marketing, 'yong copyright, and 'yong on how to earn income online." Kristine Ingrid Rivera, a BA COMM student, stated.
NorthCon comprises marketing, social media, and media professionals around Northern Luzon that aim to promote and establish ethical content creation in social media, community development, and vigilance against information disorder.
Aside from SLU, NorthCon also plans to connect with other universities in the future.